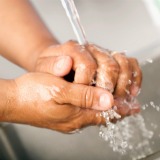 Water group United Utilities is scaling back next year's planned price increase after hitting households in north-west England with a 4% hike earlier this year.
The water and sewerage company, which serves around seven million people, will limit its 2014/15 price rise to no more than the Retail Prices Index (RPI) rate of inflation, meaning the group will forgo a 1.2% hike on top of RPI (see our Water Bills guide for help cutting costs).
It's also revealed it is proposing below-inflation price rises for 2015 to 2020 in its five-year business plan, which will be submitted to regulator Ofwat before Monday's deadline.
United's move follows pressure from Ofwat, which determines how much water firms can spend and raise prices within five-year "price control" periods, to consider reducing price increases amid the squeeze on family finances.
In April, it increased prices by 4% – inflation plus one percentage point.
United's chief executive Steve Mogford says: "This will be some good news for our customers amid the economic gloom.
"We can't control inflation but we can control the basic bill. We have listened to our customers. They have told us their household budgets are under pressure and keeping their water bill affordable is one crucial way we can help."
United says it will use part of a £75 million net tax rebate to offer the £20 million discount next year, gained from a long-running dispute over corporation tax with HM Revenue and Customs.
It adds remainder of the tax windfall will also be used to benefit customers, with £17 million earmarked for those struggling to pay their bills and £38 million for "future sharing with customers".
Another £90 million in tax savings is also expected between 2015 and 2020, which it says will be used to help customers.
Fellow water company Severn Trent, which serves the Midlands, also says its prices will rise by less than inflation in the next financial year, but it is still finalising its new five-year business plan.