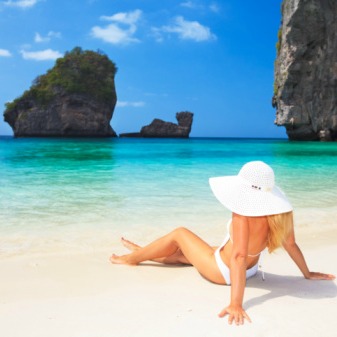 If you're planning on booking a holiday in what is one of the most popular months of the year to do so, new research reveals you'll get the most bang for your buck – or pound, to be precise – in Bali.
According to a survey by the Post Office Travel Money, prices are down in 70% of the 44 destinations it surveyed compared to last year (see our Top Travel Money guide for the full details on the best way to spend overseas).
Kuta in Bali came up trumps as the cheapest destination, where a typical basket of goods including sun cream, a three course meal for two with wine and a can of Coke, will set you back £31.48.
The second cheapest destination is the Portuguese Algarve with the same basket of goods costing £35.
But you'll get the least value for your cash in Auckland, New Zealand and Darwin, Australia where the same basket of good will set you back £115.06 and £113.06 respectively.
If you're thinking of booking a trip, see our Cheap Flights, Cheap Hotels and Cheap Package Holiday guides.
See the table below for the top ten cheapest destinations:
Where will your pound buy you the most?
Destination
Coffee
Beer
Coke
Wine
Large water
Sun cream
20 cigarettes
Meal for two
Total cost
Bali
£0.82
£1.09
£0.79
£4.37
£0.27
£2.46
£0.93
£20.75
£31.48
Portugal
£0.86
£1.29
£0.86
£1.72
£0.43
£7.75
£3.53
£18.93
£35.37
Czech Republic
£1.14
£1.14
£1.17
£1.63
£0.46
£6.49
£2.61
£22.18
£36.82
Gambia
£0.73
£0.73
£0.64
£1.83
£0.55
£9.16
£0.92
£23.82
£38.38
Bulgaria
£0.91
£0.68
£1.13
£1.81
£0.45
£4.07
£2.26
£27.15
£38.46
Spain
£1.03
£1.72
£1.03
£1.51
£0.33
£4.26
£3.44
£25.82
£39.14
Turkey
£1.51
£2.41
£1.51
£3.02
£0.75
£6.03
£3.02
£22.62
£40.87
South Africa
£1.08
£1.20
£0.96
£1.50
£0.54
£7.74
£1.80
£26.99
£41.81
Hungary
£1.20
£1.62
£1.08
£0.99
£0.30
£9.62
£2.71
£25.33
£42.85
Vietnam
£1.80
£0.96
£0.48
£2.72
£0.32
£4.33
£0.96
£33.49
£44.06
Source: Post Office. Data relates to exchange rates on 2 January 2014. Destinations based on popular cities or areas tourists visit. Drinks based on popular measurements eg, a cup of coffee.
Beat the fees
Whichever destination you choose, the cheapest way to spend abroad is on a specialist card that doesn't add the 3% load charge on top of the exchange rate that you see on most cards.
If you're travelling in Europe, the Metro Bank debit card, which comes with its current account, adds no loading fee and gives free cash withdrawals.
If you're travelling outside of Europe the Halifax Clarity* also has no foreign exchange fee anywhere worldwide (you can use our pre-application eligibility checker for this card), meaning you get the best rate possible.
Additionally, there's no fee for withdrawing cash, although you'll be charged interest at 12.9% representative APR when using ATMs – even if you repay in full.
For over-50s only, the Saga* credit card also has no foreign exchange fee, so you get the best possible rate worldwide.
If you withdraw cash, you won't be charged interest if you repay in full before your statement's due date. But you'll still be charged a one-off 2% (minimum £2) fee. Fail to repay in full, and it's 11.9% representative APR.
See our Top Travel Money guide for the full details on the best overseas cards.
If you prefer cash, our TravelMoneyMax tool compares rates and fees to find you the cheapest deal, including airport rates if you've left it until the last minute – although you should always avoid these if possible unless you've ordered ahead for collection and have no other choice.
* Using these links helps the site stay free to use, as they're 'affiliated links' which invisibly take you usually via affiliate linkage or commercial money sites, which then pay this site. You shouldn't notice any difference, the links don't impact the product at all and the editorial line (the things we write) is NEVER impacted by the revenue. If it isn't possible to get an affiliate link for the best product, it is still recommended and still included. The following links, Halifax and Saga are identical unaffiliated links provided for the sake of transparency. Click on the following link for more details on how this site's financed.