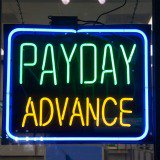 Credit brokers are preying on cash-strapped borrowers by posing as payday lenders and charging unexpected fees for organising loans, according to evidence compiled by Citizens Advice.
The debt advice charity says consumers are being charged set-up costs of £70 on top of the expense of taking out a payday loan – and in some cases brokers are taking cash from people's bank accounts without clear permission (see our Payday Loans guide for alternatives if you're struggling).
Citizens Advice warns that borrowers using a broker often believe they are dealing directly with a payday loan company, because brokers don't make the difference clear. Borrowers are then hit with an unexpected fee for arranging the loan.
The charity analysed 490 complaints about credit brokers from June and July 2013.
'Middlemen' charging unexpected fees
Two-fifths of cases involved the upfront fees charged by these "middlemen" firms.
Of these, 58% of cases involved people being hit with unexpected fees, while the remainder involved "deceptive practices".
These included people being charged a much higher fee than agreed, fees being imposed for services they never signed up to and firms pretending to be the lender instead of the go-between.
One in five consumers who complained to Citizens Advice had their card details passed on to other brokers without their knowledge. Some people had not even completed the application process, but still found their cards being charged.
Fees are refundable if a loan is not taken out – but Citizens Advice found that out of 228 such cases, 28% were refused, 14% were promised a refund which never appeared and 42% struggled to even get in touch with the broker.
What can I do if I'm charged?
If you're tempted by a payday loan, you should always look for alternatives to these loans of last resort first – our Payday Loans guide outlines your options.
But if it's too late for that, then Citizens Advice says you may not find out you've been charged by a broker until the fee appears on your bank statement.
The broker might argue the fee was in the terms and conditions, but you still have cancellation rights for 14 days after you signed up for the contract. If you don't cancel within this time, it becomes harder to get a refund because credit brokers have up to six months to find a loan.
Then once you've cancelled, the Distance Selling Regulations mean you should get your refund within 30 days.
A Citizens Advice spokesperson says: "Fair brokers' websites are reasonably clear but sometimes you have to study the small print."
FCA needs to 'come down hard'
Citizens Advice chief executive Gillian Guy says: "The Financial Conduct Authority needs to recognise the harm menaces in this industry can cause and come down hard on those who break the rules. Preventing unscrupulous brokers from entering the market in the first place, through a strict authorisation process, is essential.
"The FCA should also be seriously concerned about the prevalence of data sharing among brokers as money is being siphoned from people's bank account without clear permission."
Additional reporting by Michael Smith.