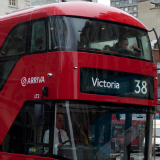 Visitors to London who plan to take one of the capital's red buses will need to use an Oyster smartcard or contactless credit or debit card from this summer, as cash fares are being abolished.
Transport for London (TfL) says the move will save money and speed up its services.
Londoners have been able to pay for bus journeys with Oyster, which needs to be topped up before travel, since 2003. Contactless cards were introduced as a method of payment on buses in December 2012.
TfL says it will save £24 million each year, as under 1% of bus journeys – 60,000 trips – are paid for with cash. At present, cash fares on buses cost £2.40 – 95p more than the same fare on Oyster or a contactless card.
Into the red on Oyster
Over 37,000 people responded to a consultation on the issue last year. While two-thirds opposed the move, TfL says it will introduce a "one more journey" feature when Oyster cards are used to pay for bus journeys, so passengers can go into the red on their cards if they don't have enough credit.
This feature is already available when Oyster cards are used to pay for tube or train journeys.
TfL also says it will review the number of newsagents and other locations where Oyster cards can be topped up.
Just over a third of people who pay cash live outside London, meaning visitors to the capital need to be aware of their options if they want to take a bus.
Going contactless
Oyster cards are available from London Underground stations and many newsagents in the capital. You need to pay a £5 deposit to get one, which is refunded to you if you return the card.
Contactless cards – which have a wavy symbol on the front – can already be used on buses and will be rolled out to the Tube, London Overground and Docklands Light Railway later this year, with a price cap introduced so they can work as bus passes or travelcards. (See the London bus double charge threat MSE News story.)
While take-up of contactless cards on buses has been slower than predicted, TfL says banks and other card issuers are prioritising London and south-east England in introducing the cards and that "the vast majority" of its passengers will soon be carrying one.
TfL's managing director of surface transport, Leon Daniels, says: "The decision to stop accepting cash fares on London buses reflects the changing way that people pay for goods and services in our city, including journeys on the bus network.
"It costs £24 million a year to accept cash on London's buses and by removing this option we will generate significant savings which, like all of our income, will be reinvested in improvements to the transport network."