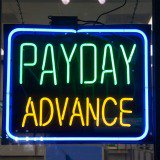 The number of people experiencing problems with payday loans soared last year, according to leading debt charity StepChange.
It says 66,557 people with payday loans sought its help in 2013, up from 36,413 the previous year – an increase of 82% (see our Payday Loans guide for alternatives if you're struggling).
"Unreasonable interest and charges" led to one borrower's £200 loan ballooning to £1,851 in just three months.
StepChange adds "irresponsible lending" has led to a typical payday loan client holding three loans with an average debt of £1,647, against an average income of £1,381 per month.
In total, StepChange handled £110m worth of payday loan debt last year, up from £60m in 2012, while 13,800 people who sought help had five or more payday loans.
Martin Lewis, founder of MoneySavingExpert.com, says: "There are alternatives to payday loans. Credit unions are a hope but lack the speed.
"My suggestion is if you feel at some stage you will have no alternative to getting one, grab a credit card, even a poor credit card at 50% APR, then stick it in a bowl of water in the freezer.

"Having to crack the ice will give you food for thought about using it. If you do use it, simply fully pay it off within a month, as payday loans are designed to be, and it's interest-free borrowing."
Payday loan reform
StepChange says its findings are "further compelling evidence" of how the payday loan market needs major reform.
It wants the Financial Conduct Authority (FCA), which will regulate payday lenders from April, to:
Make sure lenders carry out affordability checks.
Ensure debts are not artificially inflated through unreasonable interest and charges.
Make it illegal to roll over loans more than once.
Ensure lenders can only attempt to take cash from customers' bank accounts once, unless they're sure that trying again if they were unsuccessful the first time poses no risk of financial hardship to the customer.
Ban unsolicited promotions such as calls or texts. It also wants ads to contain "health warnings" so borrowers are aware of the risks.
The FCA announced plans to crack down on the industry last October (see the Payday lending crackdown MSE News story). While it recommended "health warnings" on ads and other rule changes, StepChange wants it to go further on some issues, such as the number of times a loan can be rolled over.
The final rules will be published this month.
Alternatives to payday loans

Before taking out a payday loan, consider other options first:
As Martin explains above, freeze an emergency credit card for when it's really needed. Having to crack the ice will give you time to think about using it.
Use any existing credit card instead – provided you can clear it all in full the next month, it's interest-free (except for the Lloyds Advance card).
Check if you're eligible for interest-free loans and grants from your local council or job centre. (See our Debt Help guide for more information.)
Get a 0% credit card – even with a poor credit score. (See our 0% Balance Transfer and Spend guide.)
Check out your local credit union – these are independently-run local co-operative organisations which aim to assist people who may not have access to financial products and services elsewhere.
Ask if you can you borrow from family or a close friend.
Extend your overdraft, if you can. But stay within the arranged limit, otherwise it'll cost you big.