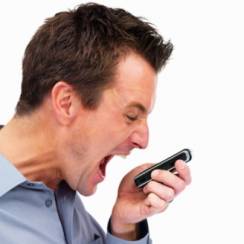 EE says it's now fixed a problem which left many customers unable to use their mobiles last night and early this morning. But we're still hearing reports people are unable to make phone calls, send texts or use the internet.
The telecoms giant tweeted from its account: "Full network service has now been restored. The problem was fixed overnight. We apologise for the inconvenience caused to customers affected."
It says only a "small percentage" of its 27 million customers were unable to use their mobiles and that the outage, which occurred after a problem with the system that connects mobile handsets to EE's network, appeared to be sporadic (see our Cheap Mobiles guide to compare, switch and save).
However, on Twitter, some are still reporting being unable to use their handsets. @Si2BadMice tweeted: "@EE Are there still issues? Cannot send texts or receive calls but can make calls and use 3G." @rblondiebelle wrote: "@EE Where is my internet? I haven't had any since yesterday #EEoutage #EEproblems."
How do I get my mobile working again?
EE says handsets should automatically connect to the network again, but if they haven't, you should turn your phone on and off again to resolve the problem.
If this still doesn't work, contact EE's customer services team.
Will I get a refund or compensation?
EE says it has "no immediate plans" to offer affected customers compensation for inconvenience caused or refunds for costs incurred, as its main focus has been getting the service back up and running again.
However if you felt you were disadvantaged by the outage, it's still worth making a complaint to EE's customer services team where cases will be looked into on an individual basis.
Make sure you tot up all costs you've incurred and keep a record of them, such as having to use a paid-for phone service.
We've seen one report on Twitter of redress being offered, with @kerrylouise86 tweeting: "Got £1.43 off my next bill after complaining to @EE for no service last night! #EEoutage #Nice."
If you get nowhere with EE you can take your complaint to the Communications and Internet Services Adjudication Scheme (CISAS) (see our How to Complain guide for tips on what to do).
Can I use this to leave my contract?
EE says customers can leave their contract at any point, but they may be charged an early cancellation fee for doing so. Check your terms and conditions first.
How to use the internet for free
If you don't have 3G or 4G, you'll need to find a wi-fi connection to browse the web and check emails.
If you don't have access to free wi-fi, many bars, cafes and restaurants offer free wi-fi, such as McDonald's and Starbucks.
Another option is tethering — using a friend's mobile connection to get an internet service on your phone.
Make calls via wi-fi
Once in a wi-fi zone you can always turn to apps that allow you to make calls online, such as Skype and Viber. These will be free to another user with the same app. See our Free Web Calls more information on these.
What does EE say?
An EE spokesperson says: "Last night's technical issue that caused a small proportion of our customers to experience problems with their signal has been resolved and all customers are now receiving a normal service.
"We apologise for the inconvenience caused to those customers affected."