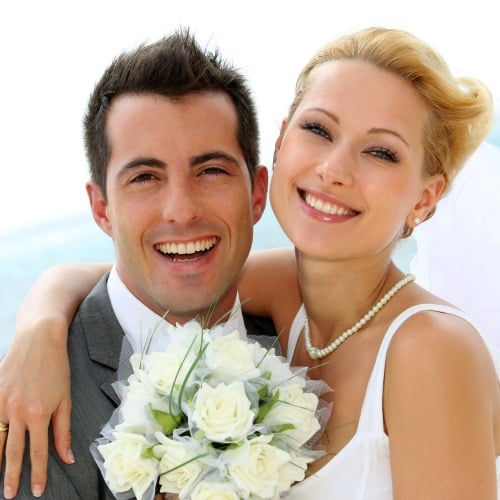 A mum-of-two is "over the moon" after winning a wedding package worth £17,000, which she spotted on the MoneySavingExpert.com forum.
Forum user Pinkteegan, a 29-year-old from Lancashire, entered the contest last month after seeing it posted on our Competitions Time forum board.
A few days later she was told she'd won the wedding package, which includes a £10,000 wedding, a honeymoon in Dubai, hen and stag parties and numerous other wedding-related goodies such as two platinum wedding rings and a veil.
"My fiancé and I are ecstatic," she says. "Having always put our wedding planning on hold due to finances we can now get married at a wonderful venue, without the stress of all the planning or the expense that a wedding brings!"
They're now planning the big day for this October.
What is comping?
Entering competitions, or "comping" as it's known, can be an extremely lucrative hobby. Hundreds of dedicated MoneySavingExpert.com forum users share the latest free-to-enter competitions, offer tips and dream of winning the prizes on offer (see our 40+ Comping Tips guide for hints and tricks).
Success isn't guaranteed, but with the right mix of careful competition selection and a little bit of luck, you could end up getting to take penalties at Manchester United v Chelsea (see the Comping success MSE News story), or thousands of pounds better off (see the £10k comping prize turns SkintDad into winning dad MSE News story).
Over the past few weeks alone we've spotted reports on the board of wins including a £54k cash prize – the biggest we've ever seen and £20,000 plus a BMW.
How did Pinkteegan do it?
An avid comper, Pinkteegan has been entering competitions posted on our forum daily for the past three years. But after taking a break from comping following the birth of her second daughter, she recently decided to get back into the swing of it.
"We had been looking at planning a holiday this year, so I thought what the heck, let me try and win one," she says.
"As I also won a holiday to Berlin last year, I purposely entered the wedding competition as part of the prize was a honeymoon to Dubai. My partner and I are already engaged so we thought it would be wonderful."
About four days later she received a phone call from organiser RGM Comps saying she'd won. "When I got the winning phone call I was absolutely over the moon. I couldn't believe it, I was shaking."
Pinkteegan credits our Competitions forum board for all of her wins. "All my wins have been thanks to MoneySavingExpert.com," she says.
"I only enter competitions which have been posted on MoneySavingExpert.com. It's really easy to search competitions by date so you don't miss any and you can tick off the ones you have already entered so there's no duplicating."
The wedding package is the biggest prize she's won, but she says past wins have included cash, toys for her two daughters and other treats, which she says she otherwise wouldn't have been able to afford.
'Don't give up because no wins are coming'

Pinkteegan considers comping her hobby and enjoys doing it in her spare time. "Sometimes there are weeks when you don't win anything" she says, "but usually prizes come likes buses – they all seem to come at once."
Her top tip for would-be compers is to enter as many competitions as you can. "Put the time in," she says. "You really need to enter comps daily – and lots of them to get any wins. Don't give up just because no wins are coming, keep going!"
She adds that when she first started comping, she was told by friends it was a waste of time – but she's now proved them wrong.