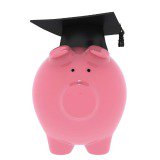 Update: 7 May 2014: Erudio has today confirmed to MoneySavingExpert.com that just over 500 former students had direct debits incorrectly taken. At the time of writing it said only 50 people were hit by the mistake. Erudio adds that all those affected have been refunded, while it's also rectified the issue to prevent it happening again.
Scores of graduates have had money taken from their accounts by Erudio Student Loans, despite earning less than the minimum salary threshold for repayments to be made – although the firm says it will refund those affected.
It's the latest in a string of problems borrowers have faced since Erudio bought the mortgage-style loans book from the Student Loans Company in November last year.
Earlier this month, it emerged people who defer student loans taken out between 1990 and 1998 will now have this information added to their credit files.
This is despite ministers promising there would be no real change for borrowers when the loans were sold (see the Student Loan Graduates deserve truth MSE News story for more).
MoneySavingExpert.com has been urging the Government to urgently clear up the confusion for Erudio customers, but despite receiving assurances from the Department for Business Innovation and Skills, Universities and Science Minister David Willetts has yet to provide a comment.
Martin Lewis, founder and editor of MoneySavingExpert.com says: "The Government needs to accept it is morally responsible for the Erudio mess and step up to the plate.
"It promised that people wouldn't see any impact from the sale of the student loan book. They have.
"We've seen a change to operations with people seeing their deferrals put on credit files, and now we have people having money taken when they shouldn't. Where's David Willetts?"
What's happened?
Here's a rundown of the latest issue:
Some 45,000 former students who took out loans between 1990 and 1998 currently defer repaying money borrowed for their higher education, as they fall short of the £28,775 per year threshold.


Customers whose loans were deferred when Erudio bought them from the SLC don't need to do anything until the end of their deferral period. Deferrals last 12 months before they have to be reviewed, at which point Erudio will send you a deferral form to complete. If you don't complete and return this form, Erudio will assume you're no longer eligible to defer and will start collecting loan payments. The SLC has confirmed this is the same process it used.


But Erudio says about 50 people whose loans are deferred have mistakenly had repayments taken from their bank account by direct debit. It says the error happened after it experienced problems getting up-to-date information on who had deferred.


Others report direct debits being set up on their accounts without a payment amount or frequency listed.


One customer even said they'd had a direct debit set up despite having paid off their student loan in full.


Different systems apply to loans from between 1998 and 2012, and after 2012.
Frustration for former students
Many former students on the MoneySavingExpert.com forum have complained about accounts being debited, despite their loans being deferred. Here is a selection of comments from our forum:
Forum user ejs2311 writes: "I had a letter from Erudio confirming my loan had been bought and its status is deferred. Today Erudio has taken a payment from my bank account and sent me nearly to my overdraft limit, meaning I can't make a payment which is due without going over it."


Beezmouse comments: "I got my deferment forms through. Currently I am deferred until 22 May and from 23 May Erudio will begin to take payments. I am below the gross income threshold so I will be deferring again. However, I've just logged on to my online banking and a new DD has been set up for ESL, payment amount: unknown, payment frequency: unknown. I did not set this up."


Mephistopheles66 writes: "It seems Erudio has not actually notified anyone of the amount to be debited from their accounts each month. I for one have certainly not been informed of what the amount would be, whereas the SLC always informed me well in advance of the amount to be paid each month if I had not been eligible for deferment."


WLITC said: "I got a letter from Erudio and I'm very annoyed as I paid off my loan on 28 January this year. Now it's probably all fine, but I've checked my bank and there is now an Erudio direct debit on there (which I've deleted) and after receiving the letter I feel the need to ring and just check that it is clear my loan has been cleared."


JMol writes: "I received a deferral form from SLC that was to be sent to SLC and I completed it. Received a reply saying my loan with Erudio had been successfully deferred. Erudio's taken payment from my bank account via direct debit. Presumably DD details were given to them by SLC. Why did SLC say it's deferred if they don't deal with deferment for Erudio anyway? I'm rather worried."
My loan is deferred. Is Erudio allowed to take repayments?
If your loan was deferred when Erudio bought it from the SLC, then this will continue as normal. Deferrals last 12 months before they have to be reviewed, at which point Erudio will send you a deferral form to complete.
If you don't complete and return this form, Erudio will assume you're no longer eligible to defer and will start collecting loan payments. The SLC has confirmed this is the same process it used.
Deferral forms are sent out roughly eight weeks before your deferral period ends, and these should be processed within 28 days.
The only instance where Erudio will take repayments from someone with a deferred loan is where an account is in arrears before it was deferred. In this instance it'll just take the amount you're in arrears by.
I've had payments taken by mistake. Can I get a refund?
Erudio says the 50 or so customers who had payments taken by mistake will have these refunded automatically. You don't need to do anything to get this money back.
Erudio will also reimburse any additional fees incurred as a result of the mistake, for instance if you went into your overdraft. If you think you're owed these, you'll need to ring Erudio on 0845 217 1134 to get your money back. You'll also have to provide evidence of of any fees incurred.
Customers who have a direct debit taken by mistake can also get a refund from their bank or building society under the Direct Debit Guarantee.
Is Erudio allowed to set up direct debits with no payment details?
Bacs Payment Schemes Limited (Bacs) says customers should have details of exactly when direct debits will be taken and how much will be debited before money actually leaves their accounts.
However, the exact terms of a direct debit depends on the company you're setting one up with. It should say in your contract when direct debit payments will be taken.
Bacs adds that it's investigating the issue. A Bacs spokeswoman says: "We are aware there have been some questions around the collection of direct debits by Erudio in relation to student loans, and we are investigating this at the moment with the organisation's sponsoring bank.

"An organisation collecting by direct debit must provide the customer with advance notice of the amount and the date it will be debited. We would advise anyone who has been debited incorrectly to contact their bank and request a refund under the terms of the Direct Debit Guarantee."
Erudio says it is "customary for direct debit instructions to be unspecified in exact amounts" and says it's operating in the same way as the former SLC, although we're still awaiting confirmation from the SLC on this.
How do I defer payments?
If you took out a student loan between 1990 and 1998 and you now earn less than £28,775, you can apply for deferment if you haven't already done so, by filling in and returning a deferment form. You can get one from Erudio by calling 0845 217 1134.
You will need to give evidence of your gross income or financial support. If you need help filling in the form, you can also call the number listed directly above. Erudio says it takes approximately 28 days to process deferments.
What does the Government say?
A spokesperson for the Department for Business, Innovation and Skills says: "Requesting direct debit information from borrowers was standard procedure for the Student Loans Company and a practice that Erudio has adopted.
"Should any payments be taken in error, the Direct Debit Guarantee ensures that customers will be reimbursed.

"Erudio has experienced some issues with its systems in getting up-to-date deferment status information and as a result some customers may have experienced some difficulties. We have raised this issue with Erudio directly and it has assured us it has now resolved this problem."
What does Erudio say?
An Erudio spokesman says: "It has always been the case that an active direct debit is required to be in place under the terms of these loans and it is customary for direct debit instructions to be unspecified in exact amounts. This is the same as was undertaken by the SLC and is the same as direct debits taken in the credit card, mobile phone, and utility industries.

"This is because customers' loan amounts change (if they are in deferment then their balance accrues at the RPI rate) and therefore the exact amount of monthly repayment is not known until the time they actually come out of deferment.
"We would encourage any customers who may have experienced an issue to get in touch with the customer service team on 0845 217 1134, and any payments taken in error will be refunded as soon as possible.
"Erudio is committed to ensuring customers get fair and efficient processing of their student loans and deferment applications, and is investing considerable resources and industry best practice to help customers who earn under the income threshold defer their student loans as efficiently as possible.

"We review call volumes and complaints every day, and in all cases where individual issues are found we conduct a systematic review to ensure the issue does not affect a wider group of customers."
See Erudio's FAQs for more information on the sale.