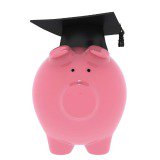 58,000 former students with loans from the 1990s are getting refunds or having money wiped from their debts after a Student Loans Company (SLC) paperwork blunder.
MoneySavingExpert.com can reveal that between 2008 and March 2014, the SLC made a long-running error in correspondence sent to borrowers with pre-1998 loans who were in arrears.
The SLC says nobody overpaid their loans, or paid any additional charges or interest because of this mistake.
But as it "potentially" broke the law by failing to disclose arrears correctly, all interest payments and charges borrowers paid from the moment they received their arrears letter from the SLC, until their loan was sold to Erudio last month, will be refunded.
Here's what happened:
Any borrower who missed two or more repayments received a letter from the SLC saying their account was in arrears.
Students who went to university before 1998 often have more than one loan to repay. But the SLC sent a combined Notice of Statement in Arrears (NOSIA), which detailed a borrower's overall arrears.
Crucially, it should have sent individual NOSIAs, which break down the separate arrears for each of a student's loans.
This blunder was spotted when the loan accounts were transferred from the SLC to Erudio Student Loans this year (see the Student loans sold MSE News story).
The SLC says the mistake means it may have breached the Consumer Credit Act, which was changed in 2008.
Earlier this month, MoneySavingExpert.com urged the Government to clear up confusion after it emerged thousands of people who defer student loans taken out between 1990 and 1998 will now have this information added to their credit files (see the Graduates deserve truth about credit files MSE News story).
MoneySavingExpert.com campagins manager Wendy Alcock says: "It's positive to hear this potential breach of the Consumer Credit Act is being addressed, but other reports have suggested the sale of mortgage-style loans last year caused more confusion than clarification.
"We're disappointed to hear the Student Loans Company made the blunder in the first place, but at least both the SLC and Erudio are working together to put things right as quickly as they can.
"We hope the same can happen for the information that is now being added to graduates' credit files that we are currently discussing with the Government."
Do I need to do anything?
No. The SLC says it will write to affected customers by the end of May.
How much will I get back?
If you were in arrears between 2008 and last month, you'll be refunded any interest and charges paid from the moment you received the arrears letter from the SLC, until your loan was sold to Erudio in March 2014.
The SLC doesn't know what the average repayment is per borrower. It just says refunds are being calculated on a "case-by-case basis". Full details of how much you'll either get back or have wiped from your loan, and how it has been calculated, will be included in the letter you'll get.
However, ex-students have already been telling MoneySavingExpert.com about their letters. One told us £816 had been deducted from his outstanding balance.
How will this affect my loan?
My loan is outstanding. £6.25m has been set aside to refund charges and interest paid by borrowers in arrears with outstanding loans. But rather than receiving a cash refund, the amount you're owed will be deducted from your outstanding loan balance. The SLC says this process may take some time. The letter you receive will detail the reduction to your outstanding balance, as well as information from Erudio on how it now manages your account.
I paid off my loan between 2008 and 2013. £750,000 has been set aside to refund customers who've already paid off their loans but were in arrears at some point between 2008 and 2014. The SLC will contact these customers to make arrangements for a refund.
I was in arrears on my loan prior to 2008. The incorrect paperwork was only sent after 2008, so anyone who was in arrears before 2008 will have received the correct paperwork and won't be entitled to a refund.
Who is going to pay for this mistake?
SLC is contacting affected customers, but Erudio will pay for the refunds.
This is because Erudio was aware of the issue when it bought the loans, and it was factored into the sale price.
Apology for borrowers
An SLC spokesperson says: "As part of the sale and transfer of the remaining mortgage-style loan accounts, it was discovered that some of the arrears correspondence that was issued to borrowers, potentially did not comply with the Consumer Credit Act 1974.

"The arrears correspondence potentially did not comply due to SLC sending out a combined Notice of Statement in Arrears, instead of sending out an individual NOSIA for each loan that was in arrears.

"As a result some borrowers will see the balance of their account adjusted accordingly, or be due a refund if they have since paid their loan off in full. The Student Loans Company apologises for any inconvenience this may cause to borrowers."
The Student Loans Company also told the former Office of Fair Trading about the issue.