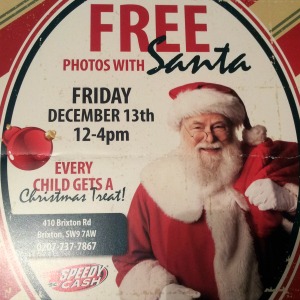 A flyer that enticed families into payday loan firm Speedy Cash's shops with the promise of "free photos with Santa" has been branded "socially irresponsible" by the Advertising Standards Authority (ASA)
The ASA told Speedy Cash that the irresponsible ad, which featured a large photo of Father Christmas with the slogan "free photos with Santa... every child gets a Christmas treat", must not be used again in its current format after MoneySavingExpert.com reported the issue to the watchdog.
Speedy Cash has also been ordered not to target ads for its in-store events at families with children.
Today's decision is a victory for MoneySavingExpert.com's ongoing campaign to prevent payday lenders "grooming" a new generation to this type of borrowing.
We first complained about the ad in January after being notified about it by a concerned MSE Forum user (see the Speedy Cash 'preying on kids' by offering 'photos with Santa' MSE News story). We argued the flyer was irresponsible because it trivialised Speedy Cash's service and was targeted at families with children.
'Enough is enough'
MoneySavingExpert.com campaigns co-ordinator Wendy Alcock says: "It was a proud day in MSE Towers when the ASA told us it would uphold our complaint about the Speedy Cash Santa leaflet.
"As this lender has been told not to target ads for in-store events at families with children, we shouldn't see this happening in any payday loan store across the UK.
"We've been banging on for years about the need to educate our youngsters about debt, not into debt, and the leaflet was a prime example of how lenders are trying to lure children into a nasty debt habit.
"Marketing is at the core to payday loans and with more and more adverts creeping into the background of kids' daily lives, we are seeing normalisation of this harmful form of debt to our next generation. Enough is enough.
"A payday loan store is no place to hold an event aimed at children. To say it is socially irresponsible only scratches the surface. Even better would be a ban on all forms of advertising that could be seen by children, especially TV, and we will continue to call for this at any opportunity we get."
We've also called for payday loan adverts to be banned from being shown during kids' TV programmes (see the Payday loan ads and kids' TV MSE News story).
What does the ASA say?
In its adjudication, the ASA said: "We considered that the nature of the event meant the ad would be of particular relevance to families with children and of particular appeal to younger children.
"We understood that there was no age restriction on who could enter shops that offered services including payday loans, and that the nature of the event meant that children would be accompanied by their parent or guardian.
"However, we concluded that marketing an event aimed at children which took place in a shop that offered services including payday loans was socially irresponsible."
But the ASA didn't agree with our argument that the ad trivialised Speedy Cash's services because it said the flyer didn't include make any reference to any of Speedy Cash's services – the only reference to the brand was its logo – or how any cash that was obtained might be spent.
What does Speedy Cash say?
Speedy Cash told the ASA that the flyers were intended to celebrate a happy time of year and that the aim of them was to demonstrate its continued relationship with the local community.
The payday lender added that the leaflet in no way sanctioned the use of its services or any of its product offerings, which also includes non-credit facilities.
When MoneySavingExpert.com asked Speedy Cash for a statement on the successful verdict, it said it wasn't commenting on the issue.