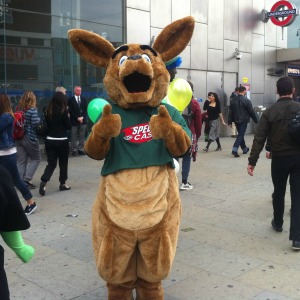 Payday loan firm Speedy Cash has been accused of "preying on children" by MoneySavingExpert.com, after handing out leaflets enticing families into payday loan shops with the promise of "free photos with Santa".
MoneySavingExpert.com forum user fabforty alerted us to Speedy Cash's questionable sales technique after she was given a flyer while out with her two-year-old son on a south London shopping street in the run-up to Christmas.
When the offending leaflet was handed to her in Camberwell, it was folded in half so only the top of the image (see below) was visible. It featured a large photo of Father Christmas with the slogan "Free Photos With Santa".
"Every child gets a Christmas treat!" the leaflet added, listing the address "410 Brixton Road", which turned out to be the Brixton branch of Speedy Cash.
Only savvy shoppers would have noticed the small Speedy Cash logo in the bottom half of the leaflet.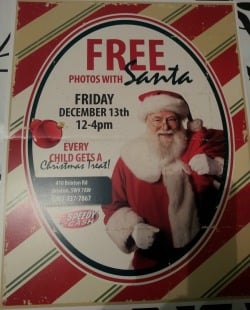 Speedy Cash says most of its UK branches held these events during the festive period.
Fabforty told us: "I noticed they were predominantly being given to people with young children, like myself.
"It was only on closer inspection I saw the promotion was on behalf of Speedy Cash. There was small logo right at the bottom – the leaflet was conveniently folded in half so this wasn't visible initially.
"My son is only two, so he had no idea what was on offer, but I can imagine how difficult it would be for a parent of an older child to say 'no' to the chance of a free picture and treat from Santa. I guess once they are in the shop, the hard sell begins."
Speedy Cash had been told by Lambeth Council last May to stop handing out leaflets. But fabforty was given the leaflet in nearby Camberwell, just inside the neighbouring borough of Southwark.
'All-time low publicity stunt'
MoneySavingExpert.com's campaign co-ordinator, Wendy Alcock, says: "It's shocking, but not surprising, that a high street payday lender has stooped to this all-time low publicity stunt by preying on the pester power of children wanting to see Santa Claus.
"After all, this is the same lender that uses a cuddly-looking kangaroo to promote its services to unfortunate passers-by.
"The wealth warning for payday loan adverts proposed by the Financial Conduct Authority can't come soon enough. But even better would be a complete ban on all forms of advertising that could be seen by children, be that on TV, in print or on our high streets.
"Lambeth Council had already stopped this lender's mascot, Speedy Roo, handing out leaflets, but it's getting around this by handing out flyers in a neighbouring borough. The leaflet before Christmas is a clear case of misleading advertising and, even though it's no longer in use, we'll be reporting it to the Advertising Standards Authority."
Payday loan firms 'grooming children'
MoneySavingExpert.com creator Martin Lewis told MPs in November that payday lenders are "in danger of grooming a new generation to this type of borrowing", as he called for payday loan adverts to be banned from being shown during kids' TV programmes (see the Payday loan ads should be banned from kids' TV MSE News story).
MPs on the cross-party Business, Innovation and Skills Select Committee and Labour leader Ed Miliband have since supported Martin's calls for action.
More than one in three people with children under 10 have heard their kids repeat payday loan slogans from TV ads, a poll of nearly 3,000 people carried out by MoneySavingExpert.com has found.
14% of those polled said when they've refused to buy something for their under-10, they've been nagged to take out a payday loan for it. (See our Payday Loan Alternatives guide for help if you're considering one of these loans.)
What does Speedy Cash say?
A spokesman for Speedy Cash says: "This is simply one of the many ways we seek to participate and contribute in our local communities.
"Similarly, we look to participate in local charity events like Tough Mudder (Help for Heroes), sponsor local youth football clubs, and raise money to support organisations like Children in Need, Manorlands, Nadia's Heart, and RSPCA.
"We do not seek to publicise our contributions. Instead, we prefer to simply help where we can. Our Photo with Santa event is not designed as a marketing/advertising event. It is intended to be an opportunity to share in our local communities, and show we are much more than simply a financial services provider."