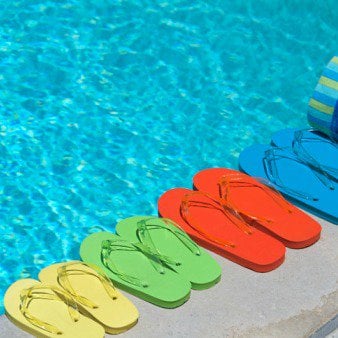 If you've bagged a bargain summer break or are looking to book one soon, check it's covered by the ATOL protection scheme after a rise in the number of jet-setters being ripped off by bogus cheap travel websites.
The Air Travel Organiser's Licence (ATOL) gives travellers who book a holiday covered by the scheme a refund, alternative arrangements or a flight home if their travel company goes bust.
Legally, every UK travel company that sells a holiday that includes flights must hold ATOL protection.
But the number of people who have booked a phantom holiday and lost their money to convincing scam sites has increased in the last few months, according to the Civil Aviation Authority (CAA).
How do the scams work?
Victims tend to say they've found unusually cheap travel packages via what looked like UK websites. Some sites even falsely claim to have ATOL protection.
But once they're ready to book, there's no online payment facility so they're asked to pay via bank transfer.
After paying a deposit or a fee, they're then told the cost has gone up and they're asked to pay extra. They may also receive fake airline documents including an phoney ATOL certificate or a reservation rather than a confirmed flight ticket.
Then their tickets and holidays fail to materialise, and often websites close leaving people struggling to take action.
Figures from the Association of Chief Police Officers reveal that 1,015 scam flight ticket sales were reported in 2013, representing 22% off all scam sales.
But CAA doesn't have the power to close down these websites, especially as many are registered and hosted outside of the UK, although it says it's working with Trading Standards to warn people about them.
How do I protect myself against holiday scams?
To protect yourself from falling victim to one of these scams, you should use the following tips:
Double-check the travel company has ATOL protection before you book.
Once you've confirmed this and paid for your holiday, make sure you get an ATOL certificate.
Check the ATOL is legitimate. To do this you should find the reference number on it. This is usually four to five digits long and it may include a 'T' at the start. Copy this reference number or insert the name of the travel company into the free ATOL database and check the firm is registered with the scheme.
Check the company's contact details. Is there an address and a working phone number?
Check the company's payment facility before parting with your cash – if it's only via bank transfer it may be best to walk away as you've little comeback if things go wrong, unlike when you pay by credit or debit card (see our Section 75 and Chargeback guides).
'A few minutes could save you £100s'
MoneySavingExpert.com campaigns co-ordinator Wendy Alcock says: "Sadly, just looking for the 'ATOL protected' logo isn't enough for savvy travellers to be sure they are booking from a reputable travel agent.
"Bogus businesses are illegally using the logo to dupe holidaymakers out of their hard earned cash.
"If you're booking a bargain holiday from a website you've not used before, take a couple of minutes to carry out a few checks. A quick Google search for the company name next to the word 'complaints' will give you a wealth of information. But most importantly check the site's ATOL reference number on the official ATOL database.
"For such an important and expensive purchase, those few minutes could save you £100s and enable you to truly enjoy your holiday."
What if I'm a victim of one of these scam sites?
Unfortunately, as many bogus sites ask you to pay via bank transfer, it's unlikely you'll be able to get your money back. The Association of British Insurers says you're be unlikely to be covered, though you should check the terms and conditions of your individual policy.
But if you paid by credit card and spent over £100, you can claim your money back from your card provider via Section 75 of the Consumer Credit Act.
If you paid by debit card or paid less than £100 on a credit card, there's no law protecting your purchases. But you could try to reclaim your cash via your card provider's Chargeback scheme.
You should also report the incident to Action Fraud, the UK's national fraud and internet crime reporting centre, and to Trading Standards.
What exactly does ATOL cover?
As long as you book through a UK travel operator which holds an ATOL, you're protected by the scheme wherever in the world you go.
To get ATOL protection, you must book a holiday that includes flights, so either a:
Package holiday which includes a flight and accommodation (including a cruise), or
Flight-plus holiday where 1) flights and car hire must be booked from the same travel company within 24 hours, 2) flights, accommodation and car hire must be booked from the same travel company within 24 hours, 3) flights are booked with a travel company where you don't get a valid airline ticket straightaway.
When am I not covered by ATOL?
If you don't meet the above criteria, you're not covered. There are also some European-based travel companies which sell air holidays in the UK that don't have an ATOL. You can find these companies listed on the CAA website.