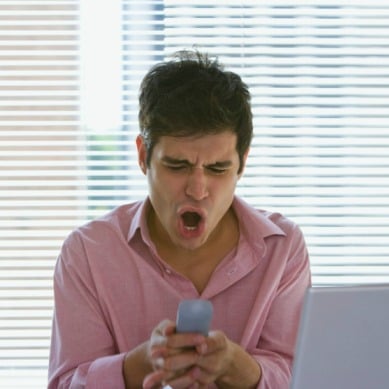 About 800,000 pay-monthly Virgin Mobile customers will have their prices hiked by 2.5% next month. But if you're one of them, there's little you can do to leave your contract penalty-free as the firm has sneaked around Ofcom rules.
Virgin Mobile says it's written to all pay-monthly customers who took out contracts or upgrades before 23 January 2014, telling them the price of their tariff will rise by 2.5% in line with May's Retail Price Index (RPI) measure of inflation from 22 July.
VIP Unlimited Data Sim-only 30-day rolling contract customers will also see prices increase from £15/month to £16.50/month from 22 July if they took out their contract before 31 March 2014 and only have Virgin Mobile services, or if they took out their contract before 30 April and have any other Virgin Media cable service, such as broadband, TV and or home phone.
Those who took out pay monthly contracts or upgraded after 23 January are unaffected, as are pay-as-you-go customers and all other Sim-only customers. The cost of calls, texts and data are also unaffected by the announcement (see our Cheap Mobile Phones guide to get the best deal).
Virgin Mobile last increased tariff prices for pay-monthly customers from 22 July last year, and today's news follows similar mid-contract price hikes announced by mobile providers O2 and EE earlier this year.
Vodafone, on the other hand, pledged in May not to increase the price of any pay-monthly contracts mid-term, regardless of when its users sign up to their contract (see the Vodafone pledges to freeze prices for pay-monthly customers).
Can I leave my contract penalty-free?
Anyone who took out a mobile, landline or broadband pay-monthly contract after 23 January 2014 can leave penalty-free if a provider ups prices mid-term, and hadn't warned you about the rise when you took out the contract.
But as Virgin Mobile's price hike relates to pay-monthly contracts or upgrades taken out before 23 January 2014, you're not protected by the regulator's ruling, meaning you're unlikely to be able to cancel your contract penalty-free.
Virgin Mobile says you can cancel your contract, but you'll need to pay early disconnection fees, which will vary.
The only other option you have is to argue the price increase is of "material detriment" under Ofcom's old rules, and try to use this clause to escape your contract penalty-free – although there's no set definition of what constitutes material detriment.
If you don't get a satisfactory response from Virgin Mobile within eight weeks, you can take your complaint to communications ombudsman CISAS.
Sim-only customers can cancel their 30 day contract at any point. They can then call Virgin Mobile on 789 or 08456000789 to ask for a refund of any outstanding credit.
'Sneaky and underhand'
MoneySavingExpert.com's senior consumer analyst Sally Francis says: "Virgin Mobile is manipulating loopholes in Ofcom rules in a similar way some of its mobile competitors already have, leaving users once again at the mercy of big companies.

"It's sneaky and, unless it's planning on allowing affected customers to leave without penalty, a very underhand move."
We've also seen complaints on our forum and on Twitter about the move:
Seguna writes: "I've just received a letter from Virgin Mobile stating that it's increasing my mobile tariff from 22 July 2014 by 67.5p a month or £8.10 per annum. I have a 24-month contract which I am 10 months into. I do not appear to have any choice in this, or do I?"
James0101 adds: "This is the second time it has increased the prices on its tariffs for me within my 24-month contract. It's just one thing after another with this company at the minute."
@IAmAnnaSky has tweeted: "Virgin Mobile is putting up my 'fixed' tariff again – two year contract, 15 months in, second price rise. This is unacceptable."
What does Virgin Mobile say?
A Virgin Media spokesperson says: "This change does not affect any customer who joined or upgraded after 23 January 2014, when the Ofcom guidance came into effect.
"Our terms and conditions are clear that changes may be made in line with the Retail Prices Index for customers who joined before 23rd January 2014.

"Virgin Media customers enjoy some of the best value mobile tariffs around. To help us continue to invest in the best mobile service and exclusive benefits such as inclusive insurance and free calls, we're making a small increase to our pricing in line with RPI for existing pay-monthly contract customers who joined or upgraded before 23 January."