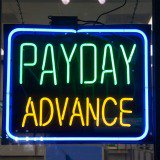 Complaints about payday lenders have more than doubled in the last two years but the "stigma" associated with the industry is preventing many more from lodging complaints, the Financial Ombudsman Service says.
Some 794 new complaints about the £2.8 billion industry were made in the year to April 2014, compared with 296 in 2011/12. But the Ombudsman warns these cries for help are likely to be just the "tip of the iceberg". (See our Payday Loans guide for alternatives if you're struggling.)
The most common reason for someone making a complaint about a payday loan is that they are being chased for a debt that they had never taken on in the first place. Often, this is due to fraudsters successfully applying for a payday loan by using another person's identity.
This was closely followed by complaints about poor service and administration, as well as payday lenders being reluctant to help those who are willing to pay and their use of aggressive debt collection practices.
Nearly two out of every three (63%) payday loan complaints taken to the Ombudsman are awarded in the borrower's favour.
Stigma stopping people from coming forward
While the number of complaints is rising, the total is still relatively small in comparison to the 66,500 people who sought help with their debt from charity StepChange last year.
The Ombudsman is urging people to seek help if they're struggling with loans or debt worries and to complain if they're unhappy with the service provided.
Principal ombudsman Caroline Wayman says: "We often hear from people who took out a payday loan as a desperate last resort and blame themselves when the debt starts to spiral out of control.
"It's important that people don't feel trapped with nowhere to turn because of the stigma associated with short-term lending. Money problems can affect everyone – but the good news is that there is light at the end of the tunnel.
"If you have a problem with a payday loan, get in touch with the Ombudsman straight away. We'll contact the lender on your behalf and help to quickly get things sorted."
Payday loans under investigation
The Financial Conduct Authority, which took over supervision of the sector in April, has been phasing in a clampdown on payday lenders.
Payday firms are now banned from rolling over loans more than twice and the amount of unsuccessful attempts they can make to claw money back out of a borrower's bank account has also been limited to two.
The payday lending industry is also currently under investigation by the Competitions and Markets Authority, with the full results expected later this year.