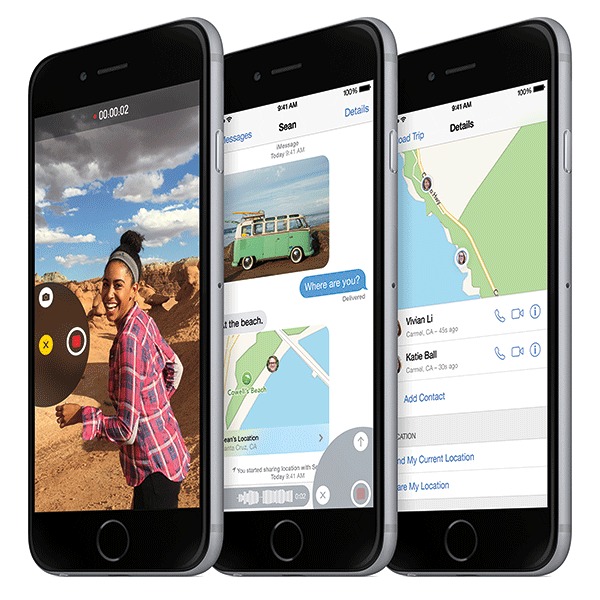 Update: 12 September 2014: Many providers have today revealed their iPhone 6 and iPhone 6 Plus contract prices, causing a number of website pages to crash. The handsets are available to pre-order now and will arrive in shops on 19 September.
Guy Anker, MoneySavingExpert.com managing editor, says: "If you're desperate to get your hands on one of the latest iPhones, don't just settle for the first model you see or it will end up costing you serious cash in the long run. We are updating our iPhone tool, which will show you the cheapest way of getting them. But be patient, as it can take a few days for all the data to come through."
Apple has tonight revealed its latest iPhone models – the larger-screened iPhone 6 and the larger still, iPhone 6 Plus.
Both new iPhone handsets will go on sale in stores on 19 September.
UK handset prices have been announced (see below), although UK contract price plans have yet to be revealed. We'll let you know as soon as we hear anything and we will update our iPhone comparison tool accordingly.
However if you're thinking about getting your hands on the latest models, remember iPhones aren't MoneySaving. Consider whether you really need one before ordering. If you're an Apple addict and nothing else will do, think about buying an older model as they tend to be much cheaper.
If you must have the latest model, in the usual Apple fashion, both handsets will be available in different price brackets:
iPhone 6 prices (including VAT)
£539 for the 16GB model
£619 for the 64GB model
£699 for the 128GB model
iPhone 6 Plus prices (including VAT)
£619 for the 16GB model
£699 for the 64GB model
£789 for the 128GB model
The handsets will both be 4G compatible and will come supplied with Apple's latest mobile operating system, iOS 8.
iOS 8 will also be available to download for anyone with an iPhone 4S or newer mobile, or iPad 2 or newer tablet through a free system update from 17 September. One new feature of iOS 8 is a fitness app that tracks physical activities.
iPhone 6 vs iPhone 6 Plus
The iPhone 6 has larger screen than previous iPhone models, at 4.7 inches compared to the 4-inch screen of last year's 5 and 5S models. The screen's resolution is 1334 x 750 pixels.
The iPhone 6 Plus sports similar specs, although it comes with an even larger 5.5-inch screen, with a resolution of 1920 x 1080.
Both phones come in gold, silver and 'space gray', with a faster A8 chip, a better camera allowing for super-slow-motion video capture, and a tougher screen.
The tech giant is also introducing Apple Pay on both models. This will work by encrypting your card details and storing them on your phone, which means cashiers and online retailers won't see your card number or security code.
You can then pay in-store by pressing the Touch ID sensor while holding your phone against a wireless pay point, while online transactions made on your mobile will require your fingerprint to be authorised. This service will be available in October in the US. The UK dates have yet to be announced.
See the Apple UK website for a full comparison of the two models.
Revealing details of the iPhone 6, Apple's CEO, Tim Cook, said: "These iPhones obviously have bigger displays, but more importantly, they're amazing products in every single way."
Selling your old iPhone? Do it soon
If you're thinking of selling your old iPhone to help pay for a new one, data from mobile recycling website SellMyMobile.com shows prices for older handsets could drop after today's announcement, and fall further still once the new models go on sale.
It's figures from this time last year, when the iPhone 5S and 5C were announced, show that the trade-in price of their predecessor, the iPhone 5, fell sharply in a just nine days:
Two days before the iPhone 5S and 5C were announced (8 September 2013): The most you'd have got for recycling the iPhone 5 was £312.


The day of the announcement (10 September 2013): The most you'd have got dropped to £305.


Three days after the announcement (13 September): The maximum you'd have got decreased rapidly to £272.


The day the iPhone 5S and 5C were available to buy in-store (20 September): The maximum you'd have got for recycling the 5 rose to £285.


A week after the iPhone 5S and 5C going on sale: The trade-in price of the 5 fell again to £270 – a reduction of over 11% from the day of the announcement.
When selling an old mobile, always compare the prices being offered using a mobile phone recycling price comparison service, such as our MobileValuer, to ensure you're getting the best price for your handset.