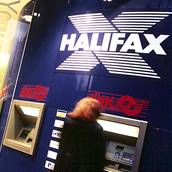 Anyone who has moved from one Halifax current account to another could find their Experian credit file does not reflect this due to an IT blunder at the bank.
A glitch means credit reference agency Experian isn't always being told by Halifax when customers have changed the current account they hold with the bank.
In particular those upgrading from Halifax's basic bank account – the Easycash Halifax bank account – to a Reward Current Account may be adversely affected by the problem.
Basic bank account customers don't have their account details added to credit files, but anyone upgrading to a regular current account, which offers a credit facility such as an overdraft, should have these details automatically added to their credit files.
Customers are often able to upgrade after receiving an increase in income or displaying a better ability to manage their money and for some, it is their first opportunity to start building a credit profile.
But Experian says the glitch means customers "may have missed out on positive data" that might have increased their ability to get credit elsewhere.
One MoneySaver, who wishes to remain anonymous, told us because of the glitch, she was refused a credit card. She also had to borrow £11,000 from her daughter in order to rent out a property – because she had no credit history, the rental agency asked for six months rent in advance.
She says: "Since January 2013 I had gone along quite happily assuming my credit score was getting better each month as Halifax had advised this would be the case. It was only when I applied for a credit card (and was refused) that I got the shock that I wasn't even being scored.
"Halifax didn't tell me was it was having problems and that my credit score would not actually be reported at all. I have spent several months trying to sort this out and hours and hours on the phone to them. This has been so very hard."
She was offered £100 for the "distress and inconvenience" caused and a refund of £50 "to cover call costs".
Halifax refused to say how many customers are affected, how long the IT issue has been going on for, and which account switches are affected.
A Halifax spokesperson says: "We are aware of an issue that has affected the automatic update we provide to credit reference agencies when some customers have changed the current account that they hold with us. We are working hard to resolve this and will ensure that we update any affected customers and credit reference agencies as soon as possible."
Credit reference agency Equifax says it found "no indication that customers are reporting missing information associated with Halifax".
However, an Experian spokesperson says: "We are simply not getting the data so it's not an issue with our processing. We're speaking to the bank to see if we can help with what looks like an IT issue their end. We will do our best to help them get this data onto their customers' credit reports as soon as possible."
What can affected customers do?
Halifax says it will contact customers but has not told us when this will happen. Anyone who's been adversely affected by the Halifax IT issue can also do the following:
Complain to the Halifax. You should also tell it that you'll be taking the issue to the Financial Ombudsman if it isn't rectified.


Add a notice of correction to your credit file(s). Contact the credit reference agency to add a notice of correction to the file explaining the problem - be concise and factual.


Complain to the Financial Ombudsman. Tell it that this issue is out of your control and is having an adverse effect on your credit file.
Customers should check their files regularly to make sure everything's in order (see our Boost your credit score guide).