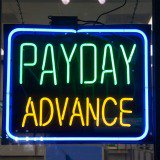 All Wonga customers who are 30 days or more in arrears on their loans will have the balance completely written off, while all customers who are in arrears of up to 29 days will have the interest and charges on their loans wiped.
The move comes after the Financial Conduct Authority (FCA) requested information about the volume of Wonga's relending rates – where it lends to the same person on more than one occasion – in April.
The regulator says the information received suggested Wonga wasn't taking "adequate steps" to assess customers' ability to make repayments (see our Payday Loan Best Buys? guide to get cheaper alternatives).
A spokesperson for Wonga says: "On conducting a review into our previous lending criteria, we recognised that we may not have always made the right lending decisions, and on reflection some of these loans may not have been affordable."
Approximately 330,000 people will have the balance of their loan written off, so they will no longer owe Wonga anything. Wonga says this will wipe £220 million from its lending book.
All customers who are in arrears of up to 29 days – approximately 45,000 – will not have to repay the interest and charges on their loans. They'll also be given the option of paying off their debt over a longer four month period. Wonga wouldn't tell us how long customers usually have to repay but adds that this is an "extended" time limit.
'Wonga has been busted'
Martin Lewis, founder of MoneySavingExpert.com says: "I'm angry and relieved about this news as I sat at the payday loan summit and I had the chief executive and PR people look me in the eye and say 'we are different from other payday lenders and we use advanced technology to weed out those people who cannot afford to repay the debt'. Its spin for so long has been that it's trying to make things better.
"But today we have seen the numbers. It's payback time. Wonga has been busted. Payday loans are unsuitable in almost every occasion. Wonga sold the idea of quick cash and it's trying to normalise it as a form of lending to a new generation. It's about time this negative spin came out."
It's another blow for the payday lender, which was slammed in June after the FCA found it had pressurised 45,000 customers into repaying loans by sending letters from non-existent law firms chasing debt, and overcharged thousands more following "technical errors" (see the Wonga to pay £2.6m after threatening borrowers with fake lawyers MSE News story).
I think I'm affected, do I need to do anything?
Affected customers don't need to do anything. Wonga will write to all affected customers by Friday 10 October. If you have a loan with Wonga, you should continue to make repayments unless you're told to stop by the firm.
If you don't receive a letter but believe you should have, you should contact Wonga on 0800 042 0210, or if you're calling from a mobile ring 0333 003 0830.
Wonga adds that it will be handling cases even if a customer's debt has been sold on to a third party or they've entered into an individual voluntary arrangement or debt management scheme.
Loan repayments already made will not be refunded as part of the move.
What happens in future?
As a result of the FCA's review, Wonga has today introduced a new 'lending criteria', which it will use before granting loans. The payday lender says it can't give too much information on what the new criteria is as it's "commercially sensitive", but it says it's scrutinising loan to income ratios.
The new system will also prevent anyone who's made a late repayment from re-applying for another loan for 30 days from today, while anyone who is rejected for a Wonga loan will also not be allowed to re-apply for another 30 days from trying.
The Wonga spokesperson says: "In our efforts to introduce necessary and urgent change, led by our newly appointed Chairman – Andy Haste, we have strengthened our lending criteria to ensure that we only lend to customers we believe can reasonably afford to repay their loans.
'The industry needs to lend affordably and responsibly'
Clive Adamson, director of supervision at the FCA, says: "We are determined to drive up standards in the consumer credit market and it is disappointing that some firms still have a way to go to meet our expectations. This should put the rest of the industry on notice – they need to lend affordably and responsibly.
"It is absolutely right that Wonga's new management team has acted quickly to put things right for their customers after these issues were raised by the FCA."