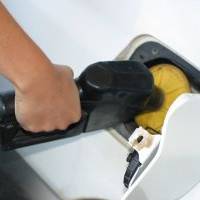 If you're planning on filling up your car with petrol, wait until midday today at Tesco or until tomorrow at Asda, Sainsbury's or Morrisons as all four of the supermarkets are cutting fuel prices by 1p/litre.
Asda announced that it will cut diesel and unleaded prices by 1p/litre beginning tomorrow, which it says is possible due to "oil prices continuing to fall".
The price cuts come as the Government today warned petrol firms that it will be "watching very carefully" to make sure the fall in the price of crude oil is passed on to motorists at the pumps.
As Asda sets a national price cap across its 240 forecourts, drivers will pay no more than 123.7p/litre for diesel and no more than 119.7p/litre for unleaded. The supermarket says this is the first time in four years that its unleaded prices have fallen under 120p/litre and adds that this is the fifth time in five weeks that it has cut prices, meaning motorists have saved up to 7p/litre on petrol.
Morrisons, Sainsbury's and Tesco also announced that they would cut petrol prices by 1p/litre, with Morrisons lowering prices across its 332 petrol stations from tomorrow, Sainsbury's at its 296 forecourts from tomorrow also and Tesco at its 500 filling stations from midday today.
Unlike Asda however, Morrisons, Sainsbury's and Tesco do not set a national price cap so pump prices vary regionally.
"We will be watching very carefully"
Chancellor George Osborne says the Government had given a "very clear" message to petrol firms that they should cut fuel prices. Osborne says: "The oil price has fallen, we expect that to be passed on to people at the petrol stations as they fill up their cars. We expect the oil companies to do this and we will be watching very carefully to make sure that they do."
The latest price drops don't necessarily mean these supermarkets are the cheapest fuel providers. To find the lowest price in your area, use the website Petrolprices.com and see our Cheap Petrol and Diesel guide for more ways to save when filling up your tank.
According to the latest figures from Petrolprices.com, the average UK price for a litre of diesel was 128.57p/litre yesterday, while the cost of unleaded petrol stood at 124.20p/litre.
Additional reporting by the Press Association.