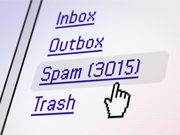 Students expecting the next instalment of their maintenance loan in January are being warned to be wary of phishing emails that attempt to steal the money as a spike in scams is predicted.
The Student Loans Company (SLC) is urging students to watch out for emails that attempt to gain personal information such as bank details in a bid to then steal the money that is usually earmarked to cover students' living costs (see our Student loans mythbusting guide for the full facts).
The Government firm that administers loans and grants to students adds that as the second of three instalment of funding for the next academic term is due in January, it's expecting to see an increase in phishing emails aiming to claw the money away from intended recipients.
The SLC writes to students prior to the start of each academic year outlining details of the funding they will receive. As this is the second payment, the SLC would not normally need to contact students asking for additional information before transferring funds.
Therefore students should be wary of any correspondence claiming it is from the SLC, and it is calling for people who receive dodgy emails to forward them on to a special email address to enable it to close them down as soon as possible. The email address is: phishing@slc.co.uk.
The warning comes as the SLC says it has prevented almost £3 million from lining the pockets of fraudsters by monitoring student loan phishing and adds that it has closed down 519 sites since December 2011. In the last year alone, 150 sites have been taken down.
'We anticipate there will be a surge in phishing emails around the January payment dates'
Heather Laing, head of counter fraud services at the SLC, says: "Fraudsters usually target students at the three main instalment dates and we anticipate that there will be a surge in phishing emails around the January payment dates.
"We monitor student loan 'phishing' very closely and close phishing sites down as soon as students alert us to them.
"Students are reminded never to post their personal details anywhere online, especially on social media sites which fraudsters often check for information. We will never request a customer to provide or confirm their bank details by email or text."
Top tips to make sure you're not caught out by phishing emails
Be suspicious of any urgent requests for personal or financial information. The SLC and Student Finance England say they will never ask recipients to confirm bank details by email. It adds that official emails come from the following address: notifications@slc.co.uk
Phishing emails are sent out in bulk and are unlikely to contain your first or last name. They often begin with "Dear student"
Check the quality of the email or text you receive – if you spot misspelling, poor punctuation or bad grammar, it's a tell-tale sign of a phishing scam
Check you're using a secure website when submitting personal information online and avoid posting personal information on social media pages
For more information on spotting and avoiding other scams, see our 30 Ways to stop scams guide.