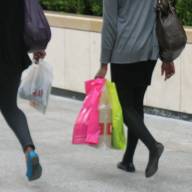 High street store Bank Fashion has gone into administration, but the retailer is continuing to trade as normal while a new buyer for the fashion chain is found
The firm has 84 stores – mainly in the Midlands, North of England and Scotland – and sells brands including DKNY, Criminal Damage and Jack Jones.
This is a full Q&A on what this means for you.
Q. What has happened?

Bank Fashion is in administration and accountancy firm Deloitte was appointed administrator on 5 January.
There are a number of potential buyers for the fashion chain and its shops and online store are still trading, but its future remains uncertain.
The firm has had a tough time over recent years and has had several owners over that period. It was bought by the JD Sports Fashion group in 2007 but the group, which owns JD Sports, sold the company to Hilco in November last year.
Q. Will gift cards be accepted?
In the past, gift cards were offered under the ownership of the JD Sports group, but were stopped when Bank Fashion was sold to Hilco.
Bank Fashion stopped accepting these gift cards on 31 December, but they are still valid in other participating stores in this scheme, including JD Sports, Millets and Blacks.
Q. Can I take items back and get a refund/exchange?
The administrators told us that there have been no changes to its standard terms of sale. Bank Fashion will honour any refunds or exchanges in line with its existing policies.
However, remember that even if you buy goods and the store's policy states you can return them, this is not a legal right. You have no statutory right to return items unless they are faulty, so if you change your mind it's up to the goodwill of staff at a store to accept a return or exchange an item.
If you bought the item online then you've got extra rights. You have 14 days from receiving the item to change your mind and tell the company, then a further 14 days to send the item back. Bank Fashion then have 14 days from receiving the item to process a refund to you. You can always speed this up by going into a store to return an item.
Once a company is in administration, it is up to the administrators whether to accept returns or not and sometimes consumers have to join the queue to get their money back like everyone else owed. So it's good news that it's still operating its return policy as normal.
Q. I bought the goods on plastic, does that give me any better rights if they're faulty?
Here your rights are pretty clear, especially if something cost more than £100 and you paid for any of it on a credit card.
Under the Consumer Credit Act, card companies are jointly liable with a retailer if something goes wrong if the item was over £100. This literally means you have exactly the same rights with the card company as you do with the retailer.
So if a store refuses to take something back that is faulty, you should go direct to the card company.
For help on claiming, see our Section 75 Refunds guide, and for the definition of 'faulty' see the Consumer Rights guide.
If you bought goods on a debit card, or goods that cost under £100 on a credit card, you may still be able to claim for faulty goods under the Visa, Mastercard or American Express chargeback schemes, though this only applies within the first 120 days of buying the goods.
Unlike Section 75, this is not a legal requirement, but it's worth a try.
Q. Will unfulfilled online orders be delivered?
The administrators have confirmed that all online orders will be fulfilled, but if the company decides to stop trading then there's a risk you won't get your order.
As with returning items to physical stores, when a company goes into administration it's up to the administrator, in this case Deloitte, to make a call on whether it will continue to fulfil online orders.
Q. Can I get my money back if orders are undelivered?
If your delivery never arrives, you should be covered under Section 75 of the Consumer Credit Act if you paid by credit card and the item cost more than £100 (see two sections above).
If you paid by credit card for goods under £100, or on a debit card, you may be able to claim via the Visa, Mastercard or American Express chargeback schemes. However, these are customer service promises, not legal rights.
Q. Can I still shop at Bank Fashion?
For now, all 84 stores and the online shop are open as usual.
If you buy something in a store, you try it on so you're sure it's not faulty and you're sure you won't need to return it, then there is little risk as you can walk away with your goods.
If you shop online, there is a risk you will never get the items delivered if the administrator does decide to stop trading in the future.
Q. What happens to staff?
Bank Fashion currently employs 1,555 employees. Deloitte says no redundancies have been made at the time of announcing the administration and all staff have been paid.
If any staff are made redundant, they have statutory rights to redundancy pay and cash for unused holidays — this is met by the Government if Bank Fashion itself can't pay.
If your job is at risk, or you are made redundant, read our Redundancy Guide for your rights.
Bill Dawson, joint administrator and partner at Deloitte, says: "Bank has struggled in a highly competitive segment of the retail industry and has been loss-making for a number of years. A review of the business has determined that a solvent turnaround would not be possible and so its director has sought the appointment of joint administrators."