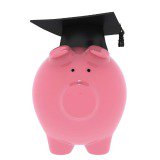 Update: 3 March 2015: Erudio told us at the time of writing that no credit files had been checked to date. However it has since admitted that it carried out a "small test pilot" on some customers' accounts when it took over the loans. This however only left a soft footprint on credit files meaning it wouldn't have been visible to other lenders.
Graduates with an Erudio student loan who are eligible to defer paying it can use the firm's revised deferral forms to do so from today.
Students who took out loans between 1990 and 1998 can currently defer repaying the money if their earnings fall short of the £26,727 per year threshold at which repayments become compulsory.
Over the years the Government has sold off these loans, transferring the management of them from the Student Loans Company (SLC) to three different companies: Finance For Higher Education Limited (in 1998), Honours (in 1999) and Erudio.
The sale to Erudio was the last to take place in November 2013. But since then, many of the 250,000 graduates whose loans were sold have faced problems, including money mistakenly being taken from the accounts of graduates whose loans were deferred (see the 500 people had money mistakenly taken from accounts MSE News story).
Another gripe repeatedly aired by those with debts is that the form provided by Erudio to apply for deferral was far more invasive than the SLC's. Former students were left confused about what questions were compulsory and what the form was even for as it had no title.
MoneySavingExpert.com met with Zach Lewy, founder and executive director of Arrow Global, which part-owns Erudio, last May to discuss these issues. During the meeting it was agreed that Erudio would come up with a revised deferral form, which we could share with our users to gather feedback before it was finalised.
We published this revised form and 'how to guide' on applying for deferral on our site in October to gather feedback from our users. We also provided further comments to Erudio on the latest version (see the Are you an Erudio student loan holder? We want your feedback MSE News story).
But both the new form and the how to guide can be used from today for those eligible to defer their loans. We yesterday met with Erudio's executive Helen Ashton to preview these documents and to discuss how the firm is trying to turn its customer service problems around. We also highlighted some of the recent issues we've seen reported about the firm.
How do I get the new form?
The form and the how to guide are sent out eight weeks before the deadline to customers who already defer their loan, or if you have since become eligible to defer, you can request a copy by emailing deferment@erudiostudentloans.co.uk or by calling 0333 003 7188.
If you've been sent a version of the old form but would rather complete the new version, you can request a copy of this by using the contact details above.
How has the form changed?
The key changes to the form include:
The removal of certain questions.
Stating where questions are optional and not compulsory.
Clarifying the section on declaring annual income, so it's obvious what information is needed.
It states that it's no longer compulsory to provide direct debit details, which are used for loan repayments when a graduate is no longer eligible to defer.
The majority of the information on credit checking has also been taken off the form and clarified in the 'how to guide'.
Separately, on the issue of credit checking customers as part of the deferment process, Erudio says it has also changed its practices so that if it chooses to check someone's credit file – which it says it has not done to date – this will now be done via a 'soft' search, meaning other lenders can't view this and it will have no impact on people's credit scores.
In certain circumstances Erudio will also report details of the loans to credit reference agencies, which is explained in the how to guide. It says this has always been in the terms and conditions of the loan.
MoneySavingExpert.com has checked this with the SLC and it too told us that the terms and conditions of the loans haven't changed and that borrowers have the same rights and obligations as they had when their loans were managed by the SLC.