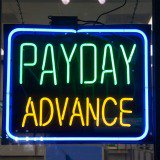 Payday lenders are "failing customers in arrears" and using "unacceptable practices", a review of the market by the regulator has found.
Research published by the Financial Conduct Authority (FCA) today reveals "serious non-compliance and unfair practices" in all firms that it reviewed, which it says lead to poor outcomes for many customers and in some cases, serious detriment and financial loss.
If you're struggling, see our Payday Loans Help guide for cheaper alternatives.
The FCA also found that many lenders are failing to recognise that customers are in financial difficulty, are offering inflexible repayment options, and are not directing people to free debt advice.
In some cases investigations are still ongoing and the regulator is working with firms to determine appropriate levels of redress for those affected.
In a number of cases the FCA has also commissioned an independent review of a firm's practices, at the firm's own expense, or restricted the ability of a firm to do business until improvements are made.
However, the FCA says many firms have taken steps over the past 12 months to change their behaviour and ensure that they are able to meet the FCA's requirements.
The findings follow the regulator's review – carried out between April 2014 and March 2015 – into how payday lenders and other high cost short term credit providers collect debts and treat borrowers who experience financial difficulty.
What exactly did the FCA find?
In addition to the problems outlined above, the FCA also found further examples of actions that may have exacerbated already stressful situations, including:
Repayment plans that were clearly unsustainable and subsequently failed.
Firms not dealing appropriately with issues when things went wrong. For example, staff failing to investigate or acknowledge complaints and customers having to explain their situation multiple times as a result of poor record-keeping.
Firms engaging in misleading practices to get payment from customers in arrears.
System failures resulting in incorrect balances, fees and charges erroneously added, and in some cases, duplicate payments being taken.
Reviews of three firms (the FCA can't give information on these as investigations are ongoing) also revealed a backlog of letters and documentation, including from vulnerable customers who had fallen behind in repayments.
This documentation included medical evidence and letters from debt advisors providing crucial information about why some customers were failing to pay.
Upon further investigation it was revealed that some of these customers were still being pursued by collection agents. This is despite lenders being required to give customers "breathing space" from making payments if they provide evidence that they are working with a debt advisor to manage their debts.
Last year thousands of Wonga customers were told they were due compensation after the payday lender pressured 45,000 customers into repaying loans by sending letters from non-existent law firms chasing debt, and overcharged thousands more following "technical errors" (see the Wonga to pay £2.6m after threatening borrowers with fake lawyers MSE News story).
What are lenders doing to improve?
The FCA says where lenders haven't complied with its rules it has "quickly" intervened to get firms to take specific steps to ensure the failings are not repeated in the future.
It says many firms have also made the following improvements:
Changes to senior management.
Revising policies and procedures for collections that are focused on treating customers fairly.
Implementation of training programmes to ensure staff are equipped to deal with struggling customers appropriately.
Improving approaches to monitoring, compliance and managing risk.
The FCA is also in the process of assessing all payday lenders on the market after taking over regulation of the consumer credit market from the Office of Fair Trading in April 2014.
Currently lenders have interim permission to trade, but at some point between October 2014 to March 2016 they will have had to, or they will have to apply for full authorisation from the FCA.
'Essential' that customer-focused approach is maintained
Tracey McDermott, director of supervision and authorisations at the FCA, says: "Our rules are designed to ensure loans are affordable; that customers who get into difficulty are treated fairly and that they are not pressurised into unaffordable and unsustainable repayment plans.
"This segment of the industry has, for too long, been in the spotlight for the wrong reasons. It is essential that the more customer-focused approach we have started to see is maintained and embedded as we go forward.
"The real test for these lenders will be FCA authorisation where they will have to demonstrate exactly how much progress they have made if they want to remain in the market."