Amazon has finally confirmed it's increased the minimum spend for free delivery from £10 to £20 after days of confusion about the change.
The online retail giant has now updated it terms and conditions to say you'll have to spend a minimum of £20 on eligible items to qualify for its 'Free Super Saver Delivery'. The exception is when you buy books, which still have a minimum free delivery threshold of £10.
The company had told us on Wednesday the increase would happen that evening, then seemed to change its mind the next day. It still has not returned numerous phone calls from us asking for an explanation.
We carried out a dummy transaction on Amazon this morning, and the threshold for free delivery had indeed increased. Use our Amazon Discount Finder to cut costs.
Amazon says add-on items, which are low-priced goods that were previously only sold in multi-pack sizes, are also now eligible for free delivery as long as they're in a qualifying order of £20 or more.
The retailer adds that today's change doesn't affect any pre-orders or orders for items not in stock placed before 1 May, where you've already selected the free-delivery option. It adds that other delivery services remain unchanged.
'Some may have missed out due to Amazon's confusing messages'
Guy Anker, managing editor of MoneySavingExpert.com, says: "This is a big blow to anyone who had hoped to get hassle-free, free delivery for spending between £10 and £20.
"Amazon needs to learn some strong lessons on how it dealt with the saga, one minute telling us the threshold would be raised, then seemingly denying it, then not directly answering our questions before eventually admitting the change had happened.
"Not only did that create uncertainty, but it meant some may have missed out on free delivery by delaying their purchase if they were taken in by Amazon's confusing messages."
Beat Amazon's delivery charges
In July 2013, Amazon introduced a £10 minimum spend to qualify for its free delivery. But postage was still free for items under £10 in certain categories, including books, music, DVDs, Blu-ray discs, software or video games.
However, it closed this loophole in January 2014.
Standard first class delivery usually costs between £1.19 and £4.28 per delivery, plus an additional 30p-£1.73 per item – the price you'll be charged depends on the items. But there are still a few tricks you can use to get free delivery.
Bump up the value of your order: If your order costs under £20, check how much the delivery will cost. If the delivery cost takes the total order over £20, instead buy something small that you need anyway to take the order up to the qualifying £20 for free delivery.


Get an Amazon Prime trial: Amazon is offering Prime newbies a free one-month trial of its service. The service gets you unlimited free one-day delivery. Just remember to cancel before the month is up, or £79/year will be taken from your account. See our 'Just got my Amazon Prime £79 back' to cancel, and for help getting your money back if you've unwittingly paid the fee.


Check if you can get it cheaper elsewhere. Remember, Amazon may not be the cheapest in the first place, so before buying anything online always do a comparison first using our MegaShopBot tool.
Days of price rise speculation
We first told Amazon shoppers planning to buy goods costing under £20 to do so before six in the evening on Wednesday 29 April, as we received the below email from Amazon saying this was due to happen.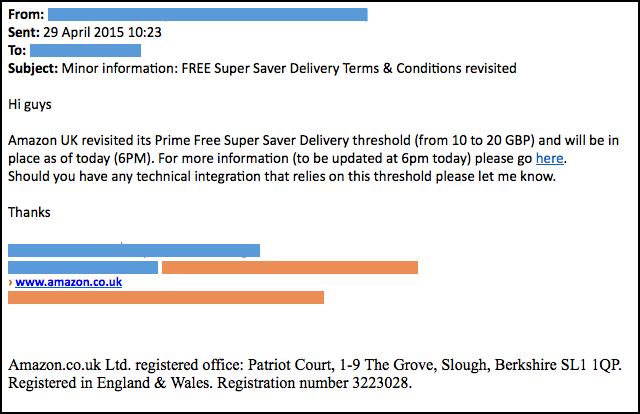 But Amazon then told us on the morning of Thursday 30 April that it had "made no changes to Free Super Saver Delivery at this time".
When we checked just after 6pm on Wednesday 29 April and around 9.30am on Thursday 30 April, Amazon's terms and conditions still stated that the minimum spend for free delivery was £10, and this was also the case when we carried out dummy transactions.
However, we saw reports yesterday – which Amazon has yet to confirm, despite us continually chasing it for answers – from shoppers who said they'd had to spend at least £20 to get free delivery. Here are some of the reports we saw yesterday:
@Podgy1001: "Amazon's website was showing free delivery on orders over £20 this morning [30 April], pleased to see it's been changed back to £10 now."


@SCoulter1982: "It did [cost a minimum of £20 for free delivery] last night [29 April] – I ordered something and it was definitely £20."


Doc N: "I checked this last night [29 April] and it was definitely requiring £20 (books £10) before free postage was included. Oddly, though, when you checked the FAQ it was still showing the old £10 figure."


problemcashback says: "At 8pm last night [29 April] it did change to £20, I had checked just before 8pm and it was still £10. Earlier in the day web chat confirmed it would be changing."