If you're searching online, beware – Google has increased the number of paid-for ads shown at the top of many search results, meaning on some smaller screens that's all you see without scrolling further down the page.
Over the years the line between adverts and natural results on the search engine has become blurred, making it increasingly difficult to tell them apart. When searching, make sure to look for the small yellow 'Ad' icon next to the URL to determine what's an ad and what isn't.
Under changes currently being rolled out, paid ads are being removed from the right-hand side of the search results page on computers and tablets. The maximum number of ads at the top of some results pages is being increased from three to four and there'll also be more ads at the bottom.
The move by the biggest name in online search means consumers googling terms such as "car insurance", "cheap hotels" or "flight delays" are more likely to be directed to sites that have paid to be visible, rather than those that have earned their ranking because they are trusted and provide relevant content. Sites paying to be visible can include shyster versions of official sites, eg, for driving licence renewal.
What's changing?
The changes mean if you search on a computer or tablet for what Google describes as a "highly commercial" term, eg, "cheap broadband" or "0% balance transfer", you'll now be shown up to four ads at the top of the page.
This means that non-paid, 'organic' search results will appear lower down the page, and on smaller laptops and tablets may be pushed down below the 'fold' – so you'll have to scroll down before you can see them at all.
Industry experts say this means sites that don't pay to advertise on Google will be harder to find. The website Search Engine Land says: "The clear loser with this change is organic search. Paid position #4 is the new organic position #1."
As an example, if you google "flight delays", four sites that charge you to help claim for flight delays now show at the top of Google – all of which pay to be there. MoneySavingExpert.com's Flight Delays, which appears at the top of organic search and helps you claim for free, has now been pushed down.
Google ads BEFORE the change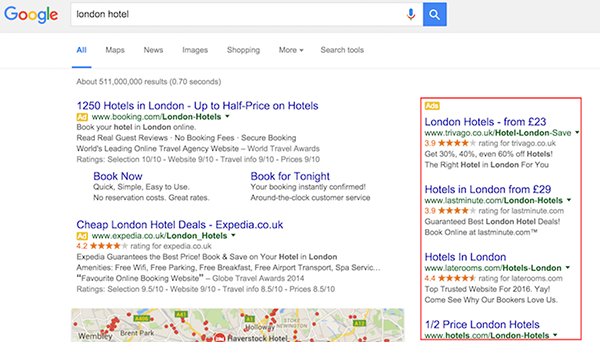 Google ads AFTER the change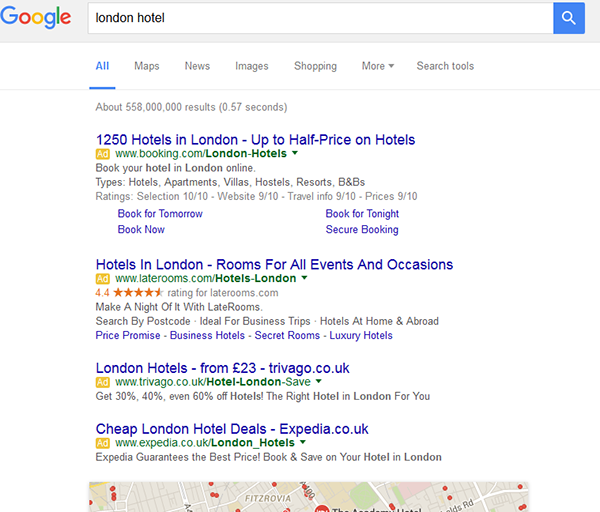 The total number of ads shown on the results page is falling as they are being removed entirely from the right-hand side of the page, and there will now be a maximum of four at the top and three at the bottom of the page. Search results pages on mobiles, which already show a maximum of four ads at the top, aren't affected.

'Scroll down to see results that aren't ads'

Martin Lewis, founder of MoneySavingExpert, says: "This is a major change all consumers need to be aware of. Companies are now increasingly likely to appear at the top of search results primarily because they're paying for it, not because Google's algorithm – the thing it is famous for – has put them there.

"This isn't necessarily a bad thing: some ads are simply for the same content as organic search. But consumers must be wary – always scroll down below the ads too – as that's really what the job of search is, to find you what you asked for, rather than just the closest ads to what you asked for.

"This is more of a concern than ever as Google has become much more subtle with its ads, which used to show with a faded yellow background, but now look far more like natural results with a little extra icon.

"Smaller companies with limited marketing budgets will also find it increasingly difficult to compete with big businesses that adopt the pay-per-click model."

What are paid-for search results?
To buy a Google ad, businesses can place bids to appear at the top of search results when certain terms are searched for. Bids are on a pay-per-click basis, meaning each time someone clicks on an ad, Google gets paid, regardless of whether the person who clicked goes on to buy something.
The amount any one company has to bid to gain a spot for a particular search term depends on demand for that search term, the 'quality score' of the bidder's page and the relevance of the bidder's page. So 'worse quality' pages have to pay more than 'better quality' ones to appear at the top – but can still do so if they're willing to pay enough.
A considerably lower bid is required from a business looking to appear in the results for a search term that is its own name, but any company can bid for any term – for example, if you search for "Martin Lewis", comparison site uSwitch appears top of the results.
'Copycat' websites that charge consumers for services that should be free or a set cost, such as renewing a driving licence, have until recently thrived by paying for Google ads, though this is less common these days. See the Copycat Websites guide for more.
How Google ads have evolved
Although this most recent change has not altered the appearance of ads themselves, it adds to an overall trend that has made it much more difficult to tell ads from organic search results over the years.
Google ads in 2007
Paid-for links used to show with a shaded yellow background: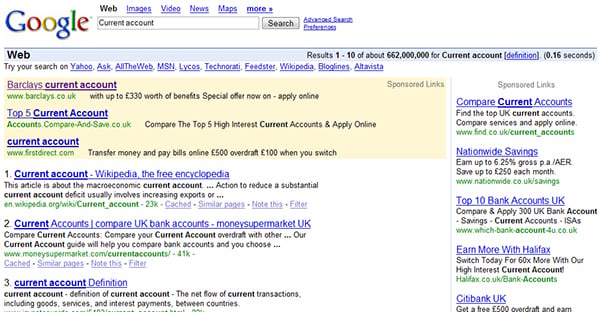 Google ads in 2013
In about 2013 Google removed the yellow shading and introduced the 'Ad' icon and a thin grey line to distinguish ads from organic results: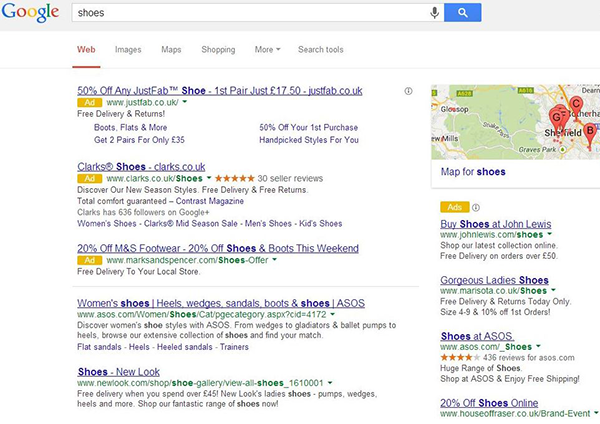 Google ads in 2016
By March 2016, the 'Ad' icon has been shrunk, the grey line has been removed, and more ads than previously appear above organic results: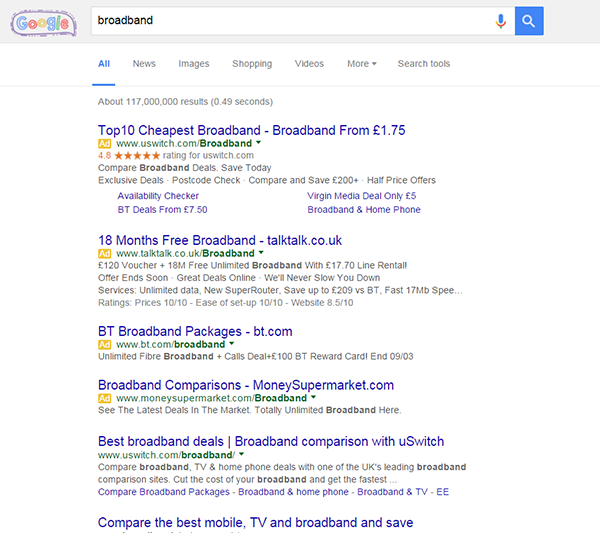 What does Google say?
A Google spokesperson told MoneySavingExpert: "We've been testing this layout for a long time, so some people might see it on a very small number of commercial queries.
"We'll continue to make tweaks, but this is designed for highly commercial queries where the layout is able to provide more relevant results for people searching and better performance for advertisers."
Commenting on the impact for consumers in a recent blog, Google employee Matt Lawson wrote: "Ultimately, we are making this update to improve the user experience on Google Search and to make that experience consistent across desktop, tablet and mobile.
"The majority of our searches happen on mobile these days, which has no right-hand-side ads... we've found users [don't] click on them as much as other ads – and when users don't click on things, we take that to mean that something wasn't what they were looking for.
"Our experience on mobile, as well as extensive testing on desktop, led us to the conclusion that this change would benefit our consumers who increasingly search across devices."