Embattled energy supplier Extra Energy has once again been ranked bottom of the Citizens Advice performance table after receiving a record number of complaints.

The provider, which performed 80 times worse than the best-performing supplier, SSE, received 1,791 complaints per 100,000 customers from April to June this year, amid ongoing concerns about late or inaccurate bills and problems contacting customer services.

Extra Energy beat its previous complaints record of 1,682 per 100,000 customers that it received in the first three months of the year.

Following the firm's poor showing in Citizens Advice's January to March performance table, Extra Energy claimed that many of its problems had been fixed and were "a thing of the past, thanks to a programme of improvement work".

However, this latest result shows there is clearly more work to be done if the company, which has about 400,000 customers, is to stem the tide of complaints.

What's more, this latest Citizens Advice league-table ranking comes alongside an Ofgem investigation into whether Extra Energy has broken rules in relation to billing, customer service and complaints handling.

The Ofgem inquiry was launched in July after the energy regulator received information from Citizens Advice and the Ombudsman regarding Extra Energy.

For help getting the cheapest gas and electricity deals, join our free Cheap Energy Club.


The other winners and losers in the league table

SSE retained top spot in the 21-strong table with an even better performance than last quarter – getting a complaints ratio of 23 per 100,000 customers, compared with 28 per 100,000 last time round.

Flow Energy, which was ranked second in last quarter's table, dropped to tenth with a four-fold increase in its complaints ratio (up to 133 per 100,000 from 33 per 100,000) compared with the previous three months.

Replacing Flow in second place was EDF Energy, moving up from third last time round.

Towards the bottom of the table, Npower's complaints ratio dropped by over a third; nevertheless, its rank of 18th remains unchanged as a new supplier entered the table in a higher position.

Newcomer GB Energy came ninth with a complaints ratio of 125.4 per 100,000 customers.

Elsewhere, big movers included Utilita, which more than halved its complaints ratio, while Ecotricity doubled its complaints ratio compared with last quarter.

Here's Citizens Advice's full energy supplier performance league table for April to June...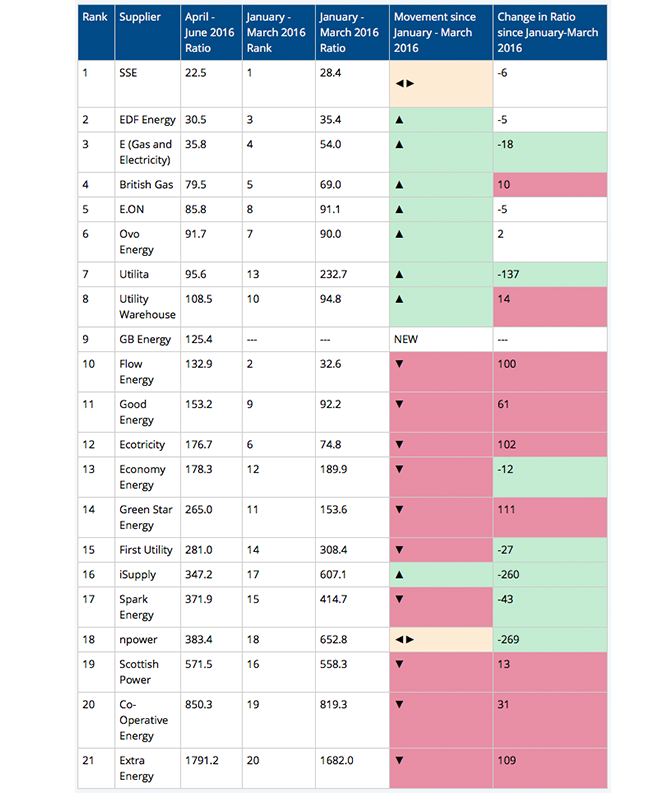 What do Citizens Advice say?

Gillian Guy, chief executive of Citizens Advice, says: "The latest league table shows some suppliers are getting much better at sorting out their customers' problems, but it's disappointing to see others getting worse at dealing with complaints".
What happens next in the Ofgem investigation into Extra Energy?

We're seeking clarification from Ofgem on when its investigation is likely to conclude and will update this article when we know more. If Ofgem decides Extra Energy did break the rules, it has the power to impose a fine of up to 10% of the company's turnover.
What should I do if I've got a complaint to make against Extra Energy?

If you've a gripe with Extra Energy, you should complain to the company. If you're unhappy with its response or don't get one at all within eight weeks, you can take your complaint to the Ombudsman.

What does Extra Energy say?

Ben Jones, managing director of operations at Extra Energy, says: "These [Citizens Advice] figures reflect historic customer service issues that occurred during a period of time where Extra Energy saw our number of customers expand rapidly and unfortunately some of these complaints have taken longer than expected to resolve.

"Resolving complaints promptly is incredibly important to us and we have continued to see improvements in the level of complaints we resolve by the end of the next working day. We apologise unreservedly to anyone who has not received the standard of service we expect of ourselves.

"The energy market needs challengers like Extra Energy to break the stranglehold of the big six and to save customers money in an overcomplicated market."