Chancellor Philip Hammond has committed to the launch of tax-free childcare, a flagship Government policy, early next year.
Delivering his Autumn Statement, Hammond said the scheme – first announced as far back as 2013 – would be introduced gradually from early 2017. The roll-out will begin on completion of pilot schemes which have been in place across parts of the UK since September.
Under the new Tax-Free Childcare scheme, eligible families will get 20% of their annual childcare costs paid for by the Government. The way it works is that for every 80p you pay into a newly created 'childcare account', the Government will contribute 20p.
This could mean up to £2,000 per child (the scheme assumes a maximum of £10,000-a-year childcare costs per child – if you pay more, you won't get more help).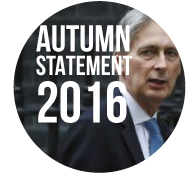 Autumn Statement 2016: Other key stories
Once the scheme is fully rolled out, Hammond added, the Government will review it to assess if it's delivering for working parents.
There had been fears that childcare vouchers – a tax-efficient way to pay for childcare inside a salary sacrifice scheme set to run alongside the new scheme until 2018 – would be axed. But these proved to be unfounded as they were spared the chop.