If you haven't switched to the best bank for you yet, with two hot deals ending from First Direct & HSBC, go quick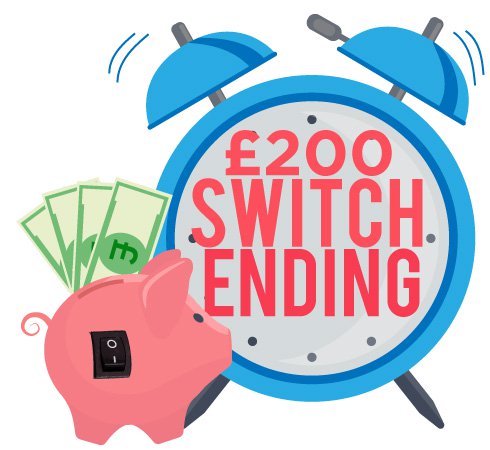 Banks have been waging a price war all year - and one of the best things they do is give you free money. It's a great way to boost your income, or help clear debt, plus fortunately many of the ones that pay you also offer top customer service and other benefits. Yet deals are ending fast, so you need to seize the moment.
Switching's easy, takes just seven working days, and they close your old account and shift direct debits and standing orders for you, plus forward any payments that get missed. 76% of you say it's hassle-free. But with some of these deals you don't even need to switch. For any new account you need to pass a credit check, but they tend not to be too harsh.
Top free cash SWITCHING accounts
These all give cash freebies when you use their switching services, plus either linked regular savings accounts or ongoing rewards.
- Ends Mon. Free £125, £250 0% overdraft & no.1 for service. First Direct* has won every customer service poll we've done, with 90% rating it 'great'. Plus newbies switching via the link above by 11.59pm on Monday get £125 free (otherwise it's £100). You also get a £250 0% overdraft, and access to a 5% linked regular savings account.
Who can get it? Pay in £1,000/mth (that just means put your salary in, equiv to £12,900/yr) or meet other selected criteria, otherwise there's a £10/mth fee, which isn't worth paying.

- Ends Wed 29 Mar. Free £200 (£150 upfront, £50 in a year). New HSBC Advance* account holders get £150 for switching, and another £50 if still with it after 12 months. It also gives access to a 5% linked regular saver. Customer service is only 43% 'great' though.
Important: you'll need to say you want to switch when applying online, and HSBC will call you within two working days to arrange the switch.
Who can get it? There's a £1,750/mth min pay in (equiv to £26,100 salary), plus you need to switch 2+ direct debits/standing orders within 30 days, and register for online or mobile banking within 60 days.

- Free £110 WITHOUT min pay-in, plus up to £5.50/mth. Co-op Bank gives a free £110 with no minimum pay-in. And you can get up to £5.50/mth on spending, meaning a max of £176 in the first year, and £66/yr after.
Who can get it? You must shift 4+ active direct debits for the £110. For the £5.50/mth you need to sign up for its Everyday Rewards scheme and jump through a few hoops.
Top free cash WITHOUT SWITCHING account.
If you're willing to play, this is a good 2nd (or 3rd or 4th) account to make some free cash.
- Free up to £150 & 3% interest. While the deals above require you to switch, new customers to the TSB Classic Plus* don't need to. It pays £5/mth cashback as long as you've 2+ monthly direct debits paying out, plus, a further £5/mth when you make 20 debit card payments per calendar month. So the trick is to see this as a 2nd bank account, used for instance for spending to help you budget. The deal lasts until June 2018, netting up to £150 in all. Plus, you also get 3% AER variable interest on £1,500.

Who can get it? You need to pay in £500/mth, (which you can withdraw again if you want) go paperless and register for internet banking.
Top 'free cash' accounts for paying bills
Paying bills is a wrench but for a small fee some banks give cashback. These aren't always best as your main account, yet we know many - especially couples - have separate bills accounts, so why not make a profit?
- Earn 3% on ALL main bills - top cashback rate. The NatWest Reward* account has a £3/mth fee but gives 3% cashback on council tax, gas & elec, water, mobile, landline, TV and broadband bills paid by direct debit. You must spend £100/mth on bills to break even with the fee; a more typical £300/mth nets £72/yr after fees.

- 1% to 3% cashback with lower fee. The Santander 123 Lite account has a £1/mth fee yet pays 3% on phone, broadband, mobile and TV bills; 2% on gas & elec; and 1% on water, council tax and Santander mortgages (max £10/mth on mortgages). You must pay them by direct debit, pay in a min £500/mth and log in to online banking at least every 3mths. But if you've a large-ish Santander mortgage it may beat NatWest above.

- 1% to 3% cashback, plus 1.5% interest on up to £20,000, yet higher fee. The main Santander 123* account pays the same cashback with the same conditions as the 123 Lite above, plus 1.5% AER variable interest, but for a £5/mth fee. It could win if you've big savings (though compare with putting them in a top savings account).
Other top accounts to consider
Free cash is great, but if you're a saver, overdrawn or make use of benefits such as insurance, then there are others which may work.
- Top accounts for savers: As well as the fixed regular savers above, you can get decent interest on up to £20k, or £60k for couples. See Top Savings Accounts for full info.
- Top accounts if you're overdrawn: Some accounts offer a 0% overdraft. Our Cut Overdraft Costs guide has details plus 10 clever ways to save.
- Top accounts if you need insurance: For a fee some bank accounts will offer insurance (eg, £600 worth for £120) and other perks - see our Packaged Bank Accounts guide.
- The accounts if you can't get an account: You need to pass a credit check for those above. Yet basic bank accounts don't do such stringent checks (though most do a credit check for ID), as they just provide a no-frills, no-overdraft service. See Basic Bank Accounts for full info.
This article first appeared in the weekly email on 22 March 2017.