An advert for a 'Martin Lewis tax-free loophole' – which has nothing to do with the MoneySavingExpert.com founder – has appeared alongside a Yahoo news story about scam sites misusing Martin Lewis's name.
The search engine has now removed the sponsored link, which redirected users to a page about 'legal tax loopholes to jump-start retirement', which made no mention of Martin.
A different page which also appears to be based at the same web address, mocked up as a fake BBC news page, uses a bogus Martin endorsement to tout a 'wealth-creation scheme' to let you "quit your job in 30 days".
Ironically the ad which Yahoo has removed appeared alongside a news story in its finance section titled 'Martin Lewis launches Twitter tirade against 'disgusting' scam companies using his name'.
We've had lots of reports recently about firms claiming fake endorsements from Martin and MoneySavingExpert.com and leeching off the hard-earned trust people have in us. Martin would never give permission for his name to be used to promote the sponsored link, pictured below. See the LIAR ads warning in our 30+ Ways to Stop Scams for more info.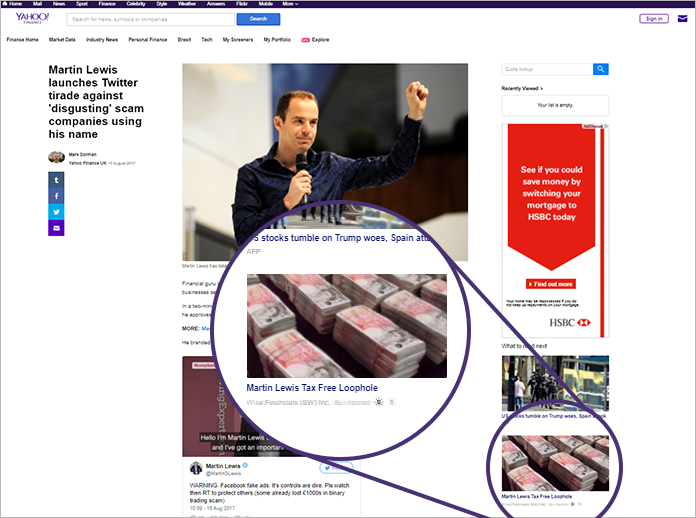 Yahoo pulled the ad from its site and related sites which include AOL and Tumblr after we contacted it this morning. A spokesman for Oath, Yahoo's parent company, said: "Thank you for bringing this ad to our attention, which we can confirm has been removed.
"Deceptive and misleading ads are not acceptable, and we expect our advertisers to comply with all laws, regulations and our policies. In addition, we regularly take action to block ads in violation of our policies, as well as bad actors who work to circumvent our human and automated controls. We encourage users to report ads that violate our ad policies, so that we can take them down."
Martin: 'If you want to know what I think, come to MSE'
In a bid to tackle dodgy sites using his name and picture, Martin released a video earlier this week to try to spread his warning.
He said: "I'm afraid to tell you, there's a host of dodgy companies, whether scam firms, misleading firms or name-alike firms, that are trying to leech off the hard-earned reputation of me and this website to sell you things with an implied recommendation, which an absolute unmitigated lie."
If you've spotted a site using Martin's or MoneySavingExpert.com's name without permission, let us know at news@moneysavingexpert.com.