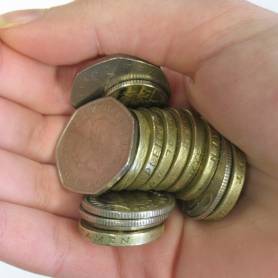 Many parking and self-service machines across the country have stopped accepting the old £1 coin – even though it is still legal tender until the middle of next month.
A new 12-sided £1 coin was introduced in March this year, and the old round coins are being phased out. Shops won't accept them after 11.59pm on Sunday 15 October, so you need to spend or save your old £1 coins by then – see full info in our Piggybank Warning.
But this week MoneySavers have been reporting that their old £1 coins are already unusable in many self-service machines, converted ahead of the 15 October deadline.
Which machines now aren't accepting old £1 coins?
A number of businesses and other organisations have confirmed self-service machines have already been changed:
NCP self-service machines. National Car Parks (NCP) says some of its machines now only accept the new £1 coin. NCP says this is clearly signposted, and most car parks allow you to pay by other methods such as card or mobile phone.
Oyster card top-up machines in London. Oyster card top-up points at a number of tube stations – such as Balham, pictured below – are displaying notices saying old £1 coins are no longer accepted.
Council parking machines. A number of councils say their parking machines have now been updated and will no longer accept old £1 coins – examples include Exeter City Council and South Hams District Council. Others such as Isle of Wight Council will stop accepting the old £1 next week, well before the 15 October deadline.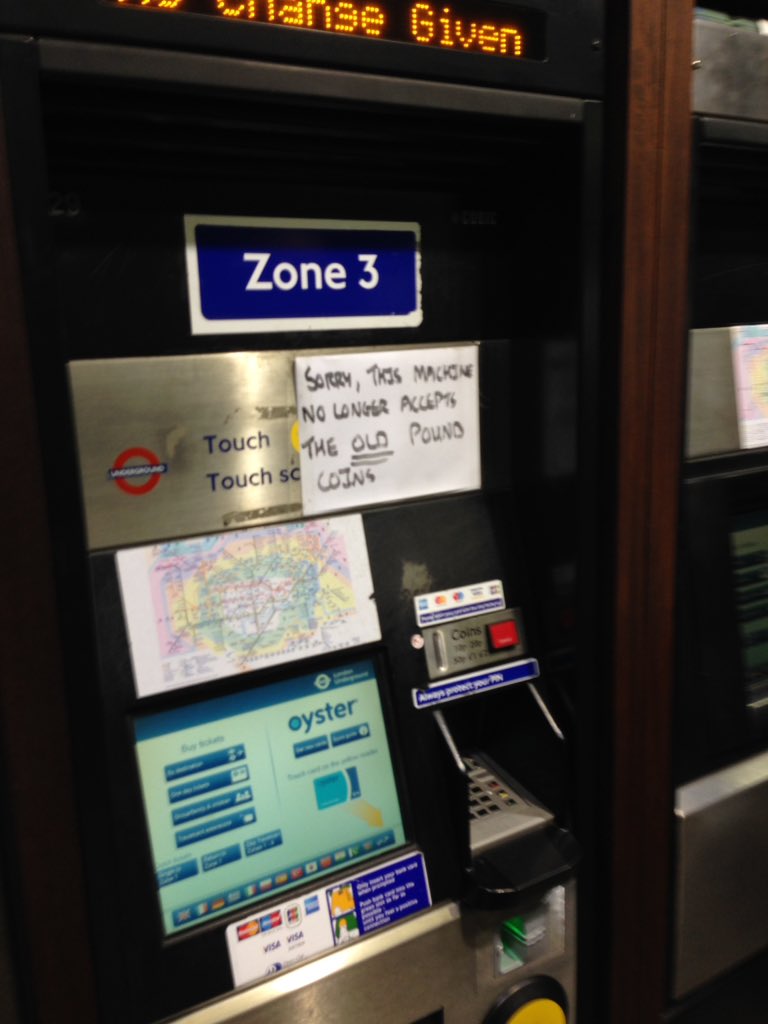 We've also seen several unconfirmed reports from MoneySavers and on social media about old £1 coins being rejected elsewhere.
MSE Gary found self-service machines in a Tesco store in central London rejected his round pounds on three separate visits. He said: "On three occasions, after my round pound was rejected, staff members have had to come up and switch my old coin for a new, 12-sided one, which works in the machine." However, Tesco told us all its self-service and staffed checkouts still accept the old pound coin, and insisted MSE Gary's experience was "in no way typical".
School bus driver and MoneySaver, Eric, told us: "We've been told that we won't be taking the old ones next week [from 2 October]. Seems a bit daft when the general info is that they are valid up to 15 October, and there are still a lot around."
MoneySaver Linda told us she had had her old coin rejected at a holiday park. "They refused to take old £1 coins from me when we arrived on 23 September, saying they have not been legal tender since 15 September," she said. "I asked them if it was their own policy not to accept them but they were adamant that 15 September was the date they ceased to be legal tender and not just their policy."
If you've had your old £1 coin rejected, let us know in the comments or at news@moneysavingexpert.com.
Can businesses reject my old £1 coin?
While the old round pound will be 'legal tender' until 15 October, that doesn't mean that shops and businesses are forced to accept them up until then – it's up to their own discretion.
'Legal tender' is a widely quoted term, but when it comes to what can or can't be used to pay for things, it has little practical use. It's actually a term used to describe the means of payment which has to be accepted to settle a debt - so if you're in debt to someone, you can't be sued for non-payment if you offer full payment in 'legal tender'.
What can you do if your old £1 coin's rejected?
If a business or self-service machine won't accept your old pound coin, it is up to you to ensure you have an alternative payment method.
How can I get rid of my old £1 coins?
The easiest option is to spend them where you can by 15 October, or save them. If you have a lot, you can exchange them at most banks and the Post Office.
In fact, most banks and building societies have told us they will accept the old pound coin even after 15 October – though usually only from their own customers. See our Piggybank Warning blog for more info.
If you are given an old £1 as change after a transaction, the Royal Mint says you're entitled to ask to swap this for a new pound, but it's up to the business whether it does this or not.