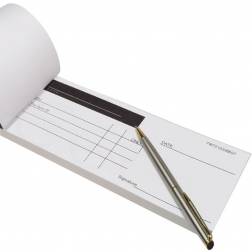 You'll soon be able to clear a cheque by the next working day thanks to a new image-based system being rolled out from today.
Currently, paper cheques have to be taken from bank to bank and can take six working days to clear, but under the new process your bank will instead send an image of the cheque securely – plus some also plan to let you pay in a cheque by sending a picture rather than going to a branch.
The new system means that if you pay a cheque in on a working day (Monday to Friday) you'll be able to withdraw the funds by 11.59pm the next day at the latest (excluding weekends and bank holidays).
The system is being rolled out in phases and even banks that are starting to implement the new system will only use it on a small number of cheques to begin with.
Due to this, you probably won't notice any difference in the speed of cheque processing for now, but by next summer all UK banks and building societies will have to be using the system.
When will I be able to use the new system?
We've spoken to several major UK banks to ask when they will be using the system. We also asked whether they'll allow you to send a picture of the cheque – by using a secure mobile banking app – rather than having to go into a branch to pay it in.
It's worth bearing in mind that even banks which have the new system won't be using it for all cheques. The system will be rolled out until a cut-off date in summer 2018, which is yet to be announced. Here's what the banks said:
What are banks doing?
| Bank | When will it begin sending cheques to other banks via the new system? | Can you submit cheque images via its app? |
| --- | --- | --- |
| Bank of Scotland | Today | Yes, from early 2018 |
| Barclays | Today | Yes, by joining the mobile cheque imaging pilot |
| Halifax | Today | Yes, from early 2018 |
| HSBC | Today | HSBC is looking into this |
| Lloyds | Today | Yes, from early 2018 |
| Nationwide | Today | No |
| NatWest | Early 2018 | No |
| RBS | Early 2018 | No |
| Santander | Today | Yes, from summer 2018 |