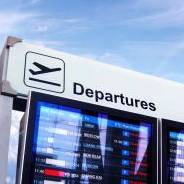 Hundreds of thousands of travellers who have missed connecting flights with non-EU airlines could now be able to claim compensation after a ruling by the Court of Appeal.
Under EU law, passengers on long-haul flights from EU airports may be due at least €300 (£270) in compensation if their flight is delayed by over three hours and it's the airline's fault, even if their airline is not EU-based.
Earlier this year the Civil Aviation Authority (CAA) demanded five non-EU airlines – American Airlines, Emirates, Etihad, Singapore Airlines and Turkish Airlines – change their policy of failing to pay compensation to passengers who arrive at their destination late after missing their connection at a non-EU airport and who meet other compensation criteria.
The dispute centred on the fact that passengers' final flights were between two non-EU airports. But the issue has now been tested in a court case between Emirates and four passengers, and the court ruled in the passengers' favour – though Emirates may yet appeal.
For full help plus our free reclaim tool, see our Flight Delay Compensation guide.
What has the Court of Appeal ruled?
The Court of Appeal – hearing the cases Gahan vs Emirates and Buckley and Ors vs Emirates – has now ruled that a passenger MAY be able to claim if a delay was caused by a missed connection, and the connection was missed because of a problem with a flight from an EU airport.
The four passengers involved in the Court of Appeal case all brought claims against the Dubai-based airline:
In the first of the two appeals considered, Miss Thea Gahan had made a single booking to fly from Manchester to Bangkok via Dubai. Her flight from Manchester was 3 hours 56 minutes late arriving in Dubai, by which time her connecting flight to Bangkok had already left. She had to be put on an alternative flight, but finally arrived at Bangkok nearly 14 hours late.
In the second appeal, the Buckley family from Wigan had been booked to travel from Manchester to Sydney, also via Dubai. Their flight from Manchester arrived 2 hours 4 minutes late in Dubai, and they did not have time to transfer to their connecting flight. The family ended up arriving in Sydney over 16 hours late.
The court ruled in favour of the families in both cases and said they WERE due compensation.
I was delayed after missing a connecting flight – what does the ruling mean for me?
The CAA says the ruling means passengers on non-EU airlines who were delayed on the first leg of their journey, missed a connecting flight as a result and arrived at their final destination at least three hours late, may be able to claim compensation of up to €600 (£530) – whether the final destination is within or outside the EU.
You'll need to meet the usual other criteria for flight delay claims under EU law though – eg, the original delay must have been the airline's fault. See full info in our Flight Delays guide.
The regulator has now written to Emirates and asked the airline to accept the Court of Appeal judgment. It's also written to American Airlines, Etihad and Singapore Airlines to ensure they comply with the ruling.
Turkish Airlines is already working with the CAA and is now compensating passengers for missed connections.
We have contacted each of the other four airlines and asked if they plan to comply with the ruling and compensate passengers.
American Airlines says it is "reviewing the matter".
Emirates says it is seeking "legal advice" but would not confirm whether or not it was accepting claims in the meantime.
Singapore Airlines and Etihad have not yet replied.
Think you're due compensation? Claim now
Regardless of whether the airlines say they are accepting claims, it may be worth putting one in anyway if you think you're owed. The rules are complicated though, so for full info on how much you could be due, how to claim and our free reclaim tool, see our Flight Delays Compensation guide.
Bear in mind that the Court of Appeal ruling only covers a specific set of circumstances, and you can probably only claim if:
Your missed connection was caused by a problem with a flight from an EU airport. If you were delayed at your connection for some other reason, you won't be able to claim.

Your multiple flights must be part of a single booking. You can't claim for a missed connection if the flights were booked separately, even if they were with the same airline.
You arrived at your final destination on your booking at least three hours late. If, for example, you arrived at your connecting airport four hours late but still had time to make your connection, you can't claim.
What does Emirates say?
An Emirates spokesperson said: "We are very disappointed by the Court of Appeal's ruling in relation to the application of [EU flight delay regulation] EC261 on our flights from the UK involving a stopover in Dubai and are currently seeking legal advice on our options. Our commitment to excellent customer service will not be compromised and we will continue to always put the safety of our passengers and crew first, going above and beyond to ensure that any disruption caused... [is] kept to a minimum.
"As one of the world's largest airlines, we have always complied rigorously with all legal requirements and regulations as set by the relevant authorities and these findings today will not impact this commitment."