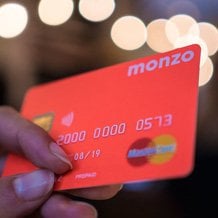 If you have a current account with app-based Monzo Bank, you'll be charged fees for overseas ATM withdrawals from 18 December if you take out more than £200/month.
And if you use Monzo's prepaid card, you'll only be able to make one fee-free overseas withdrawal a month, up to a maximum of £200, before incurring fees.
The announcement comes after Monzo last month said it would be introducing fees for overseas withdrawals and asked users to vote on three different charging options. Almost 6,000 people took part in the poll, with 61% voting for the option Monzo is bringing in on its current account.
Currently Monzo's prepaid card and current account allow free overseas spending and ATM withdrawals worldwide, though withdrawals – abroad and in the UK – are restricted to £250/day, £1,000/month and £3,000/year.
Monzo is currently in the process of moving users of its prepaid card to its new current account. It says it'll have offered all of its 450,000 users a current account by the time the fees come into effect. You don't have to take up the offer of a current account, but Monzo will eventually stop supporting prepaid cards.
For full help on keeping costs down when spending abroad, see our 18 cheapest ways to get travel money.
What are the new fees?
The new overseas ATM fees will depend on whether you have a new Monzo current account or are still on the prepaid card. From 18 December 2017:
If you've a Monzo current account, you'll be able to withdraw £200/month overseas fee-free. Further withdrawals will incur a 3% charge.
If you've a Monzo prepaid card, you'll only be able to make one free overseas withdrawal a month, up to a max of £200. Any subsequent withdrawals, even if your first wasn't £200, will be charged a 3% fee.
If you don't want to accept the changes, Monzo says you'll need to close your account by 18 December.
Overseas spending, online transactions in a foreign currency and ATM withdrawals in the UK will all remain fee-free, on the prepaid card and current account.
What other options are there for fee-free ATM withdrawals overseas?
The Barclaycard Platinum travel credit card has no fees on overseas spending or cash withdrawals worldwide until August 2022. For those happy to open a bank account, Starling Bank has a similar offering with no set end date.
For full options, see our Travel Credit Cards and Prepaid Travel Cards guides.
Why is Monzo making the changes?
Monzo insists the proposed changes are "not profit-making" and blames "'very high foreign transaction fees" imposed by ATM owners for the impending restrictions. The bank has previously said that it's typically charged fees of between 1% and 2% which it currently absorbs.