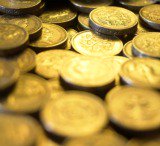 Thousands of shops will continue to accept old round £1 coins after they go out of circulation this Sunday - but if you still have the old coins, it's best to spend them or bank them ASAP.
After 11.59pm on Sunday (15 October) shops won't be able to hand out the old coins as change and the vast majority will refuse to accept them as payment. See our £1 piggybank warning blog for more info.
The old round £1 has been replaced by a new 12-sided pound coin, which entered circulation in March. But with around 500 million of the old coins still in circulation with just a week to go, some shops, including supermarket giant Tesco and the discount retailer Poundland, have now said they'll continue accepting them even after the deadline has passed.
Which firms will continue to take the old £1 coin after Sunday?
Tesco has announced it will take the old £1 coins at all its tills and self-service machines for a week after the 15 October deadline.
High street bakery Greggs has also said it will accept the old coins after the deadline, but it hasn't yet said for how long.
Meanwhile Poundland has said more than 850 of its stores across the country will continue accepting the old coins until Tuesday 31 October.
And many smaller businesses look set to follow suit, after a trade association representing 160,000 members, including shops and self-employed people, urged its members to keep taking the old coins.
A spokesman for the Federation of Small Businesses said: "Shopkeepers will be aware that the Royal Mint has this deadline but at the same time they will not want to let their loyal customers down by saying they cannot pay with a round pound if they do not have any other change.
"It would help if small firms knew they were allowed a short transition period to collect the old coins if they wish to and are willing to bank them, but not give out to customers. This would provide a useful community service, allowing customers a few weeks to get rid of the final few pound coins in circulation."
What can you do if you still have old £1 coins after Sunday?
If you haven't manage to spend or save your old £1 coins by Sunday, then major banks and building societies including Barclays, Halifax, Lloyds, Nationwide Building Society, Natwest, RBS and Santander have said they will continue to accept round pounds as deposits from their own customers after they cease to be legal tender.
Before you get rid of them, you can also check if your old £1 coins are worth more than £1.
Will any firms not accept the NEW £1 coins after Sunday?
Tesco says that some of its trolleys at smaller stores have not yet been adapted to fit the new £1 coin, although it hopes to update these in time for 15 October.
Tesco told us: "We've already updated the vast majority of our trolleys ahead of the old coin going out of circulation. We're on track to update the remainder over the coming days. There will be no disruption to customers while we do this."
It is also being reported that ticket machines at some railway companies – including Govia Thameslink Railway which operates Southern Rail - are still not accepting the new £1 coin. We have contacted Govia Thameslink Railway to check this.
Where can you not use the old £1 coin already?
Many parking and self-service machines across the country have stopped accepting the old £1 coin already, even though it is still legal tender.
This is because although 'legal tender' is a widely quoted term, when it comes to what can or can't be used to pay for things, it has little practical use. It's actually a phrase used to describe the means of payment which has to be accepted to settle a debt - so if you're in debt to someone, you can't be sued for non-payment if you offer full payment in 'legal tender'.
Self-service machines which have stopped accepting round pounds already include NCP car park machines, Oyster card top-up machines in London and many council parking machines. See our Old £1 coins already unusable news story for more info.