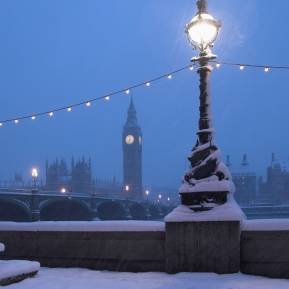 Major travel disruption is continuing today (Monday) due to wintry weather across the UK, with disruption to some flights, many struggling to get to work and 100s of schools closed.
Dozens of flights are showing as cancelled at Heathrow, with some flights from Edinburgh and Manchester also affected. British Airways has reduced its flight schedule from Heathrow due to the forecast of continued bad weather, and passengers are advised to check the flight status before they travel to the airport.
National Rail said poor weather conditions are affecting travel across England and Wales, with Chiltern Railways, CrossCountry, Great Western and Virgin Trains routes all affected, while East Midlands Trains customers are being advised to check trains are running before setting off.
If you're hit by disruption, we explain your rights below.
For more help see our Flight Delay Compensation and Train Delays guides.
If I can't get to work, will my pay be docked?
Let's get the bad news out of the way first: if your workplace is open and you can't get in, your employer DOESN'T necessarily have to pay you, according to the conciliation service ACAS. So you may be forced to take unpaid leave.
If you're unable to get to work, the best thing is try to come to an alternative agreement with your employer, such as working from home or changing your hours. It's also worth checking if your employer has an 'adverse weather' policy, which could grant you the right to paid leave, or to discretionary payments for travel disruption.
The best course of action is to plan ahead as much as possible and be sure to check your rights with your employer.
What if my child's school is shut?
If your child's school is closed or your normal childcare arrangements are disrupted due to the snow, you may have the right to time-off to look after your child – this should be agreed with your employer, according to Government advice.
ACAS says in emergency situations you can take unpaid leave to look after your child, and extreme weather may count as one of these situations. It says arrangements between employers and employees will vary on a case-by-case basis.
Again, plan ahead as much as possible and contact your employer to check what it can do to help.
My flight has been delayed or cancelled. What are my rights?
When a flight is cancelled, however long before it was due to take off, and regardless of the cause, under EU rules you have a right to:
A refund for the cancelled flight
Or an alternative flight to your destination
If you choose to be re-routed or if your departure is delayed by more than two hours, airlines also have to provide assistance such as food, phone calls and accommodation where appropriate to passengers, regardless of what caused the cancellation.
As a rule of thumb, you don't have a right to claim additional compensation if the cause is bad weather, as it needs to be within the airline's control, but there are a few cases where you may wish to pursue a claim.
Martin Lewis, founder of MoneySavingExpert.com, said: "The rules are plain – unless it's the airline's fault, you're only entitled to a refund or alternative flight, not additional compensation.
"The airlines will almost certainly, with some justification, argue that cancellations due to bad weather are not their fault. However, it is possible to look beyond that. There's an argument that this weather was widely predicted, and foreseeable, so the fact British Airways for example has cancelled so many flights due to not having planes and crew in place, rather than directly due to the weather, is indeed its fault.

"So if you believe you have been hard done by and are owed compensation on top, you could consider pushing this. Write to the airline, explaining this point. It will almost certainly reject you. Then you've a right to go on to an 'Alternative Dispute Resolution' process where you make the argument again. There's certainly no guarantee, but there is a chance."
See our Flight Delays and Cancellations guide for more information.
What if I missed a flight because of a delay?
If train or road delays cause you to miss a flight, you may be able to get compensation from your travel insurance provider, though check first as different firms will have different rules.
You will need to show you allowed a reasonable amount of time for your journey to meet the flight.
The Association of British Insurers says: "Some travel insurance policies may offer some cover for missed flights due to your journey to the airport being disrupted in certain circumstances, so check your travel policy."
My train has been delayed or cancelled. What are my rights?
Here are the main rules:
Can I get on another train? If your ticket is open, you can just get on the next train to your destination, assuming it is running. If your ticket is restricted, you can't get on the next train if yours is delayed; but if it's cancelled, you should be able to. Check with station staff to be safe.

I don't want to travel because of a delay. Can I get a refund? The simple answer is yes, though it's more complex if you have a season ticket. See Season ticket claims.
I'm late arriving. Can I get compensation? The rules are not universal for all train firms, but in most cases you can claim for a delay of 30+ minutes, regardless of the reason. You can usually get at least 50% of your fare back.
For lots more, including how to claim and the rules if you miss a connection, see our Train Delays guide.
I can't use a hotel or car hire booking as I can't get to my destination. What are my rights?
First check if it's refundable, in which case contact the provider to get your money back.
If not, this is where travel insurance comes in, though there's no 'one-size-fits-all' answer as each travel insurance policy is different, so check with your insurer. See Consequential loss help for more.
Additional reporting by the Press Association.