Flying Ryanair? It's just changed its hand luggage rules
Ryanair has cut its hand luggage allowance – if you want to take a standard hand luggage suitcase into the cabin, you'll now have to pay at least £5.
Update: Ryanair changed its rules again in November 2018. For the most up-to-date information see 21 Ryanair Tips.
From Monday 15 January the budget airline is only allowing you to take one SMALL piece of hand luggage into the cabin – rather than the two items allowed until recently – unless you pay for priority boarding.
Ryanair had originally planned to make the change in November, but postponed it. The airline, which came under fire last year for routinely allocating groups of travellers seats in different rows and then cancelling hundreds of flights, said the delay was to "allow customers more time to familiarise themselves with the policy changes".
For help keeping costs down while flying Ryanair, see our 21 Ryanair Tips.
How have the hand luggage rules changed?
Until Monday, Ryanair allowed you to carry two items of hand luggage on board:
A smaller bag – such as a handbag or laptop bag, with a max size of 35cm x 20cm x 20cm and no weight restriction.
A larger bag – 55cm x 40cm x 20cm with a 10kg weight limit.
Under the new rules you can still take both bags through security, but those customers without priority boarding can only bring their smaller bag into the cabin. The larger bag will be taken at the boarding gate to be put into the hold, at no extra charge – even if this is the only bag you're travelling with.
If you pay extra for priority boarding you CAN still take both bags, or just your larger bag if that's all you're travelling with, into the cabin. Priority boarding costs £5 if you get it when you first book, or £6 later.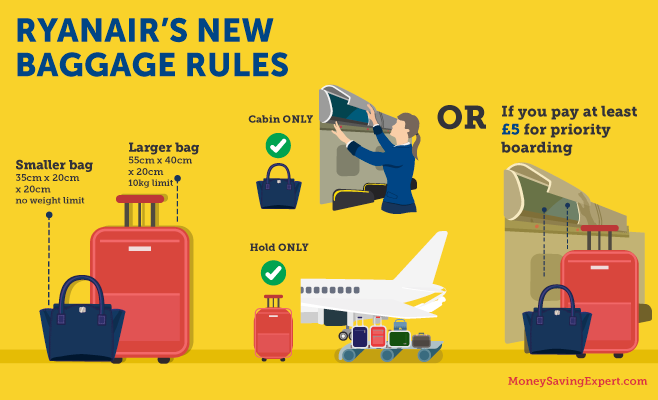 What does Ryanair say?
Ryanair says too many customers were using their full two-bag allowance, meaning there wasn't enough room in the overhead lockers and so there were delays while some luggage was moved to the hold.
Speaking about the new policy, Ryanair's chief marketing officer Kenny Jacobs said: "This will speed up the boarding of flights and eliminate flight delays, alongside our new checked bag policy which offers our customers lower bag fees for a 33% increase in their checked bag allowance."
For more holiday cost-cutting tips, see: Cheap Flights | Cheap Hotels | Cheap Package Holidays | Cheap Travel Money | Cheap Travel Insurance
For all the latest deals, guides and loopholes simply sign up today – it's spam-free!
Join the MSE Forum discussion