A number of councils and businesses have continued to charge fees for credit card payments even after a new law outlawing the practice came into effect on Saturday, MoneySavingExpert.com can reveal – while other big brands have been wrongly warning customers they'll be charged.
Several MoneySavers have contacted us to say they've been charged to pay by card, with an airline, two councils, an energy company and a Glasgow-based cab firm among those still levying fees since Saturday.
If you're paying by card over the next few weeks, DON'T assume that shops and other firms have got the rules correct, and watch out for any extra charges. If you believe you've been wrongly charged to pay on plastic since the new rules came in, let us know at news@moneysavingexpert.com.
What are the new rules?
Since Saturday 13 January all surcharges for paying by credit or debit card have been banned – this includes payment methods linked to your card, such as PayPal or Apple Pay.
Companies CAN still charge you a booking or admin fee as long as it applies to other forms of payment, and you can still be charged if you use a business credit or business debit card. For full info see our Credit and debit card charges banned MSE News story.
Who's STILL charging to pay by card?
We've been told of a number of firms or other organisations that are still charging fees – here are some examples:
Simon Kent contacted us after booking two flights with Portuguese airline TAP Air Portugal on Sunday. He was charged an £8 surcharge for using his credit card.

A spokesperson for the company told us that TAP programmed the charge to be removed on Saturday 13 January, but due to "technical IT issues" the change only became effective on the company's website on Monday. He added that TAP will automatically reimburse affected customers.
A MoneySaver from South London who asked not to give his name says he was wrongly charged a 1.65% fee by Lambeth Council to pay his council tax bill on Saturday. He said: "Lambeth Council told me they no longer charge so I paid by credit card. And guess what – they surcharged me."

A council spokesperson told MoneySavingExpert that customers should no longer be charged for paying by credit card and added: "We apologise for any initial administrative errors, and will make refunds as appropriate."
Isle of Anglesey County Council has admitted it's wrongly charged some residents and is working to update its systems. A spokesperson said: "Clients who have recently made payments online or through our touch-tone process have, unfortunately, incurred a surcharge. We are currently working with our third-party provider to resolve this technical matter and the relevant software will be updated by 18 January.

"We would like to apologise to those who have already had to pay a surcharge. They will, of course, be refunded. Those paying with credit card over the phone or in person have not been affected."
East London Energy, a small green energy provider, has admitted it continued to charge customers a 1% fee for paying bills by credit card after the ban came in.

After we explained the rules to a staff member at the company, we were told it would stop charging the fee. He said that East London Energy would also be tracking which customers had been charged the fee, and that they would be given the money back in credit.
Cab firm Kelvin Kabs, in the Greater Glasgow area in Scotland, told us that it's still charging a 50p service fee to customers who pay by card, and that this doesn't apply to those who pay by cash. It says it has "no plans" to stop charging this.

When asked to explain why it was still charging this fee despite the law changes, the manager told us it was a "service" fee not a "transaction" fee and added: "It's a slight grey area – customers are welcome to pay by cash if they don't want that service."
We've also heard several similar anecdotal stories from other MoneySavers, often relating to small local businesses.
Neville, from Stockport, told us his local pizzeria was continuing to charge a card fee. He added: "This is even after showing them it is now illegal."
Hani, from Bradford, had a similar experience at a burger restaurant. She said: "I stated that I would be paying by card and they advised me that there would be a 50p charge. I explained to the worker that it is now illegal to charge customers a fee for paying by card and they still refused to accept payment without a fee."
Other firms still warning of card charges
In other places credit card users have been wrongly warned they'll be charged fees – even though they haven't actually had to pay them.
The Student Loans Company had a message on its website on Monday saying it charged a surcharge for payments made on credit card, although a spokesperson later said this had been removed.
The website said: "There will be approximately a 1.5% surcharge added to payments made by credit cards."
One graduate told us: "As I live abroad I have to manually make payments to the SLC. I normally pay by debit card, so as to avoid the 1.5% surcharge, but I thought following the legislation change I might pay by credit card.
"When I tried, the site stated I would be charged an additional 1.5% for using the card, so I abandoned the payment and paid by debit instead."
A sign in a Premier Inn at London Euston also told customers that some cards, including Mastercard and Visa, would incur a processing fee.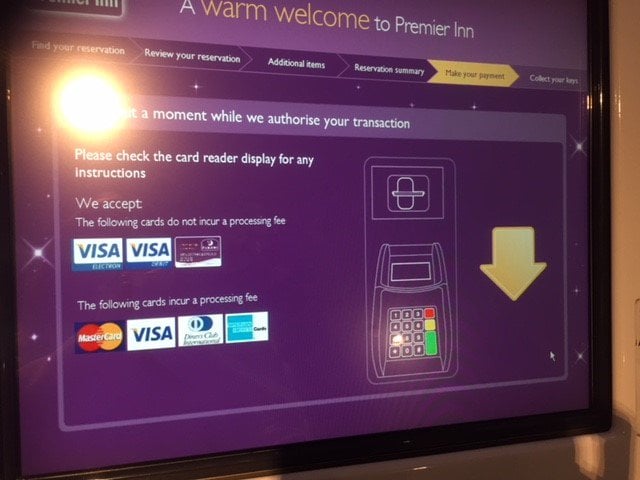 We approached Premier Inn for comment but haven't yet heard back.
I think I've been wrongly charged a fee – how can I challenge it?
If a company tries to charge you a fee simply because you are choosing to pay by card, you can refuse and complain to the company saying this is not allowed. Try showing it the official Government announcement about how the new rules work, and you can see full info in our Credit and debit card charges banned MSE News story.
If you're still having problems, you can report the company to Trading Standards – and let us know at news@moneysavingexpert.com as we'll be keeping close tabs on any firms that flout the rules.
Think you've been wrongly charged to pay on plastic? Let us know at news@moneysavingexpert.com.