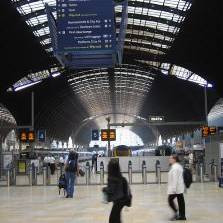 Passengers may face more short-notice cancellations and changes to their train journeys after Network Rail announced some final timetables would only be published six weeks in advance rather than the usual 12.
Despite having a contractual obligation to have correct timetables ready 12 weeks in advance, Network Rail has said it will be publishing them later than usual for approximately six months from May, meaning passengers may have to book tickets later or be told of disruption after they have booked their tickets.
While the Rail Delivery Group (RDG) - an organisation which represents train operators - says most timetables and tickets will still be available at the usual 12 weeks before travel, passengers won't know if their journey will be affected by engineering works or other issues until closer to the date – usually six weeks beforehand.
Passengers are being warned they must regularly check to see if their train time has changed, as they are not guaranteed to be told.
This is due to a change to rail timetables in May, which the RDG says is the largest in living memory, but the watchdog Transport Focus says passengers have been "badly let down" by the announcement.
See our Cheap Train Tickets guide to get the cheapest prices for your fares.
How will the announcement affect me?
The announcement means that passengers aren't guaranteed to know if their journey will be affected by engineering works until six weeks before, including whether they will be on a replacement bus or need to use a different station from normal.
Transport Focus says it may also mean cheaper advance tickets go on sale later than usual.
If you book a train that is then cancelled you'll be given a full refund. If you're journey is moved to a later time and you choose to travel you won't be able to claim compensation for arriving later than was specified on your original booking - you'd only be able to claim if your train was delayed using the new timetable.
The RDG says that if you buy a ticket for a service affected by the timetable changes, and then at a later date cheaper advance tickets are made available you should book the advance fare and then request a fee-free refund from the train firm.
What does the Rail Delivery Group say?
Jacqueline Starr, managing director of customer experience at the Rail Delivery Group, said: "While for the vast majority of our customers this change will have little or no effect, the reduced time to plan and book certain journeys may inconvenience some people and for that we apologise.
"Train operators are working together doing all they can to minimise the impact of this change on customers.
"That's why, if people have booked on a train that is cancelled, delayed, or where their reservation will not be honoured, and they decide not to travel, they will be given a full refund. Should tickets go on sale at shorter notice than usual, people will still be able to get the same range of discounted fares as normal."
'Passengers have been badly let down'
Chief executive of Transport Focus Anthony Smith slammed the announcement. He said: "Passengers have been badly let down and will be deeply frustrated that they can't make plans with certainty. They are also at risk of paying more, so we will monitor the effectiveness of the industry's no-quibble commitment.
"Network Rail and train companies need to do everything possible to minimise the uncertainty and make sure passengers aren't out of pocket. The timetable must be accurate against the temporary six-week target.
"The rail industry must demonstrate that it has a clear plan to get things back on track and avoid this happening again. Industry regulator the Office of Rail and Road should carry out a formal investigation."
The Office of Road and Rail's Chief Executive, Joanna Whittington said: "ORR is concerned about the impact which producing a final timetable six weeks before travel will have on some passengers and freight customers.

"We have already called in Network Rail to explain the arrangements it has put in place to minimise the impact on passengers and freight customers. We will monitor its progress against the proposed recovery plan.

"We are writing to train companies reminding them of the need to keep passengers informed and are pleased to see train companies' commitments to minimise the impact on passengers. We will be monitoring the performance of train companies in keeping passengers informed.

"We are investigating how this issue arose, industry's delivery against its obligations and the ongoing response of all parties in minimising the impact on passengers. We will want to ensure that any lessons learned from this are properly addressed for the future."