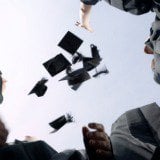 University leavers reclaimed more than £560,000 from the Student Loans Company in December - a huge spike compared to the year before.
Just over 2,200 people reclaimed the cash because they either started repaying their student loan too early or they made repayments despite their annual income not being above the repayment thresholds - this compares to just 180 claimants in December 2016.
The Student Loans Company (SLC) doesn't automatically issue refunds or contact university leavers when they overpay their student loan by these methods, so if you're owed, you won't get the money back unless you ask for it.
The huge spike in reclaims came after we revealed that 100,000+ university leavers were likely owed £100s as they started repaying their student loan too soon. We also published a Student Loan Overpayments guide on our site for the first time in December, saying when and why you can reclaim.
On the otherhand, refunds to those who had continued paying after paying their loans off in full actually dropped from December 2016 to December 2017. Unlike the reclaim reasons above, people who overpay by this method are automatically contacted by the SLC and refunded.
See Student Loan Overpayments to check if you're owed cash.
Why can I reclaim student loan money back?
There are three main ways you can overpay your student loan, and therefore be owed money. These are:
If you repaid too early – New graduates and those who have left university part-way through their course don't have to repay their loan until the April after they leave university, regardless of what they earn. But many start paying before due to admin errors. You HAVE to contact the SLC about this, it won't contact you.
If your annual income was not above the repayment threshold – When you make your repayments via pay as you earn (PAYE), student loan contributions are taken when you're paid – whether this is weekly, monthly or otherwise. So you repay when your earnings go over the equivalent of the annual repayment threshold for your pay period. However, if over the course of a tax year (which runs from 6 April to 5 April) your total income is less than the threshold, you can reclaim. You HAVE to contact the SLC about this, it won't contact you.
If you continued repayments after paying off your loan in full – The SLC only receives an update on how much you've paid towards your student loan from the taxman once a year. As a result, graduates who've actually finished paying off their loans may still have money unnecessarily deducted from their pay packets because the SLC doesn't know they've finished paying them off. You can switch to direct debit payments to avoid this, but if you do overpay the SLC should contact and refund you.
The most recent figures showing the number of reclaims and refunds can be found in the table below:
How many uni leavers reclaimed cash?
December 2016
December 2017
Reason for refund
No. of leavers
Amount refunded
No. of leavers
Amount refunded
Started repayments prior to the April after leaving
40
£12,000
290
£104,000
Annual income was not above the threshold
140
£29,000
1,970
£457,000
Continued repayments after paying off loan
10,100
£7,603,000
9,870
£5,759,000
'I called the SLC and minutes later got £458'
Since we published our guide on student loan overpayments and our news story explaining that 100,000+ were likely owed, we are continuing to receive scores of emails from MoneySavers who were able to get money back.
MoneySaver Ali told us: "Thanks, I called the SLC and minutes later they arranged for £458 to be paid back to me, Great result!"
Whilst Laura said: "I just want to thank you for helping me to claim £400 back. I had paid despite not earning over the threshold in two of the past three financial years. As I am now unable to work due to illness it was a much needed bonus!"
Sian added: "Just had £415 paid back into my account. Very happy."
I think I overpaid, how do I get the money back?
The easiest way is to call the SLC on 0300 100 0611 (or +44 141 243 3660 from overseas), ideally with as much information as possible including your payslips, payroll number and PAYE reference number.
Generally, MoneySavers have told us the process is relatively quick and pain-free, for example, MoneySaver Michael told us: "Me and my partner just phoned – 30 minutes later and we are due back £810 between us! Thank you so much for the advice. We can now pay some of our wedding and new kitchen off."
Full details on reclaiming can be found in our Student Loan Overpayments guide.