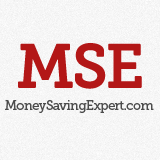 MoneySavingExpert is 15 years old this week – and to celebrate, we've had a look back at some of our best moments.
The site was officially launched on 22 February 2003 and quickly became the UK's biggest consumer website. As Martin says in his video below, MSE's been hailed as "one of the biggest causes of social change in Britain in the last decade" – and up to 18 million users now visit the site each month.
Over the last decade and a half we've helped people save week in, week out on everything from mortgages to groceries, while our campaigning journalism has won notable victories on topics such as council tax and student loans.
We led the charge in the campaign for banks to repay customers for PPI mis-selling – which has subsequently seen people reclaim over £20 billion – and were also a key player in the fight against unfair bank charges, for which consumers have reclaimed over £1 billion.
While our ethos has remained the same throughout – to fight the consumer's corner – we've undergone some pretty radical changes including the launch of our Cheap Energy Club and MSE Credit Club, and the website itself has had a fair few facelifts. We've even featured in a Top 40 chart hit...
Martin: 'A thorn in the side of those who want to screw consumers'
MoneySavingExpert founder and executive chair Martin Lewis said: "Happy birthday MoneySavingExpert. I can't believe my web baby is now 15 – with pimples, talking back to those in authority and fighting for its independence, and I wouldn't have it any other way.
"This site, it was once said to me by a senior journalist at the BBC, has been one of the biggest causes of social change in Britain in the last decade, empowering people to take action, take on big corporates, take on companies. It could be up to £10 billion of PPI alone has been reclaimed – many billions more have been saved."
Watch Martin's full birthday message below:
How it all began
Martin started working as the Money Saving Expert in 2000, using the title when on TV and writing a newspaper column. On the side he'd send his 'Martin's Money Tips' to friends and family, alerting them to short-lived deals and ways to save.
He said: "I didn't think much of it until, after a couple of months, I was at a party and people I'd never met before were thanking me for the emails. My friends had been forwarding it to their friends. I thought I'd make it easier and set up an email list built around a basic homepage so anyone could get the info."
In February 2003 he decided to launch the website properly, which cost just £100 thanks to a web designer in Uzbekistan. Here's how it looked back then: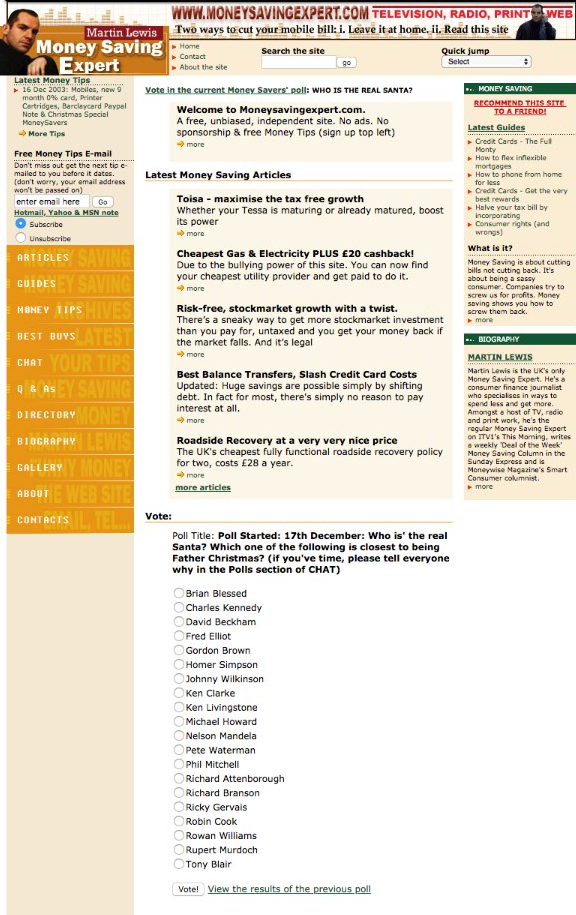 In May 2004 MSE got its first official employee, and within another two years, a million people a month were visiting the site and we'd expanded it somewhat. Here's another blast from the past: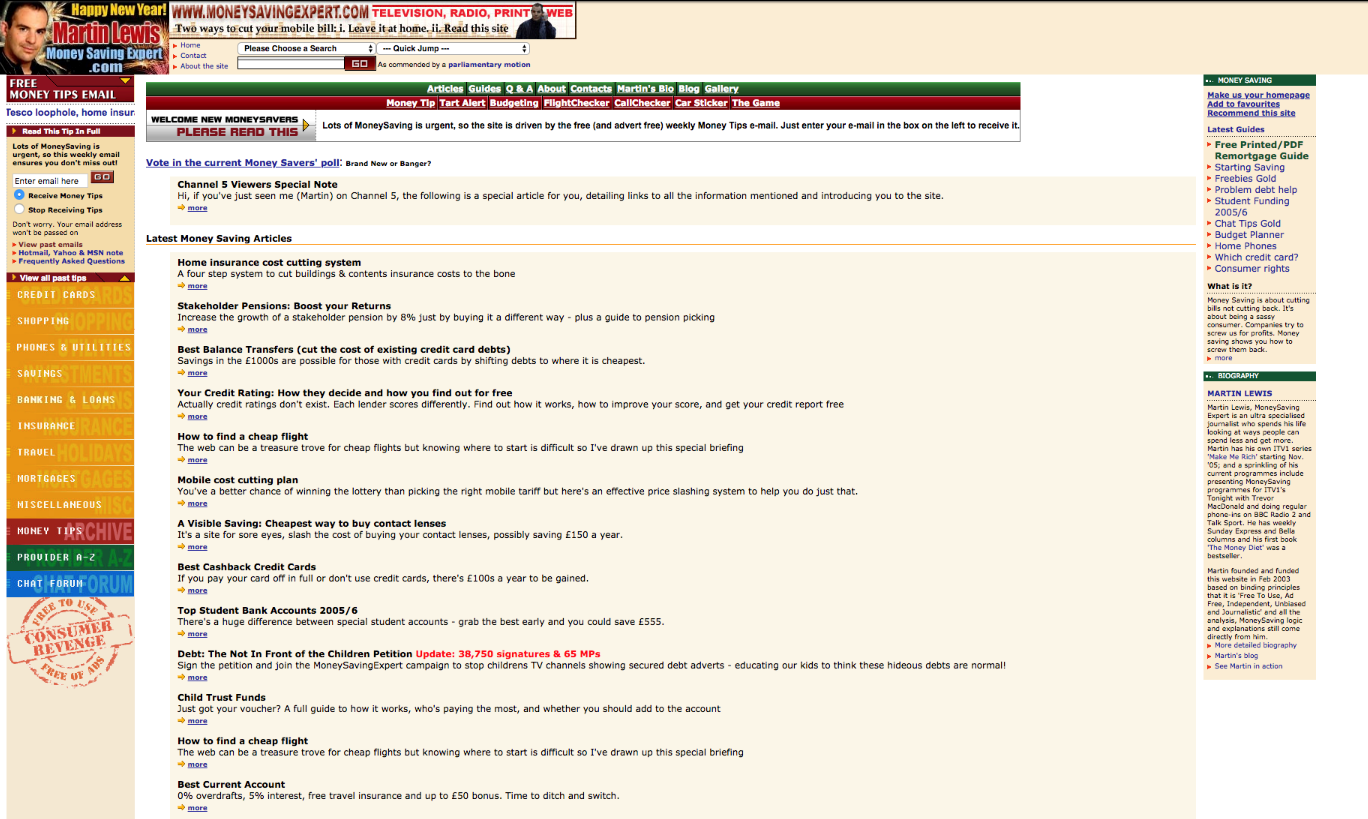 Fast forward to 2014, when the weekly email hit 10 million sign-ups, and you can see the site was heading towards how it looks today: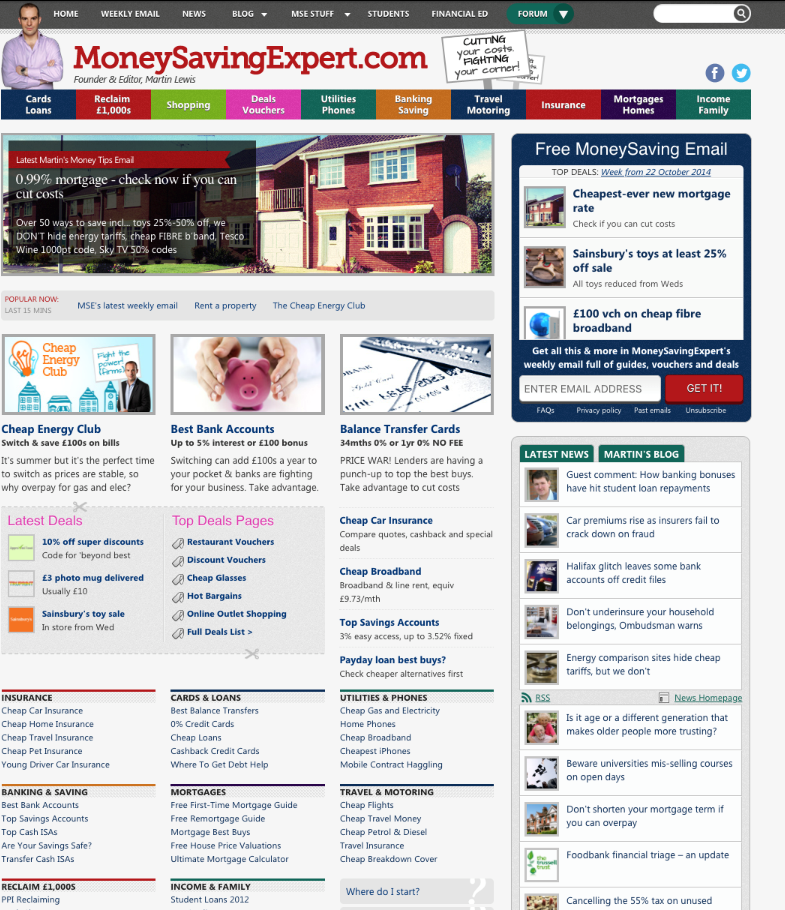 Here's how MSE's look has evolved year by year:
MoneySavingExpert by the numbers
It's not all about the stats of course, but to give you an idea of just how big MSE has become, here are a few key figures:
43.4 million – number of posts to date in the MSE Forum
13 million – number of people now opted in to receive the weekly email
7.1 million – number of bank charge template letters downloaded to help consumers claim
6.7 million – number of PPI reclaim letters downloaded
3.2 million – number of Cheap Energy Club members
453,000 – number of delayed-flight reclaim letters downloaded
£153,000 – biggest PPI reclaim success via MSE that we've heard of
780ish – total number of weekly emails sent (give or take)
6 – number of MoneySaving weddings – ie, weddings after MoneySavers first met in the forum. (That's the number we're aware of, but let us know if you know of more.)
Our biggest campaign successes
From the very beginning we've always aimed to protect consumers and give them the tools they need to fight back, and we're proud to say this has been at the heart of everything we've done. Here are a few highlights:
Share your MSE memories with us on Twitter using the #MSE15 hashtag.
And finally... what about that Top 40 hit?
Yep, it really happened. In January 2008 the bank charges protest song I Fought The Lloyds, featuring Martin in the video and the unforgettable instruction to "Open up Mozilla and go to MoneySavingExpert.com", entered the Top 40 chart at number 25.
Surely the first-ever chart entry to feature lyrics about "sexy little template letters", the song has become part of the MSE legend. Read the full story here, and watch below. Enjoy...
Have your say