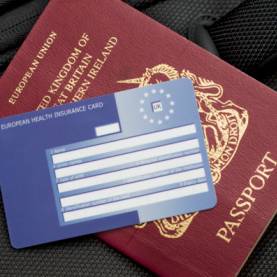 More than 10,000 British travellers a year are having to apply for emergency documentation to access medical care in Europe because they don't have a valid EHIC, figures obtained by MoneySavingExpert reveal.
An EHIC - or European Health Insurance Card - is free to get and gives you access to free or discounted medical care in all 28 European countries, plus Iceland, Liechtenstein, Norway and Switzerland.
But if you fall ill or have an accident while travelling in Europe and don't have an EHIC, at the very least you'll face an administrative headache and are likely to have to make calls back to the UK to sort out cover - the last thing you'd want in a medical emergency. You could even be charged for care or have to claim on your insurance.
Data obtained by MoneySavingExpert under the Freedom of Information Act shows that over the past five years 56,287 Provisional Replacement Certificates (PRC) have been issued by the Department of Work and Pensions' Overseas Healthcare Team to ensure that Brits with no EHIC can get the medical care they need.
And the true number of Brits caught out by not having an EHIC is likely to be much higher, as these figures just show the number who were able to arrange emergency cover. More are likely to have had to pay for care themselves or claim on their travel insurance and pay an excess - though these figures aren't recorded by the Government.
For full info on how the EHIC works, how to get one and how check yours is still valid, see our Free EHIC Card guide.
What is an EHIC?
If you're a UK resident you'll usually be entitled to a UK-issued EHIC and they're completely free - see full eligibility criteria on the NHS website.
Getting an EHIC means that if you need medical care while travelling in Europe, you'll be entitled to the same treatment that local citizens are entitled to – extremely useful in emergencies.
The EHIC covers all EU countries plus Iceland, Liechtenstein, Norway and Switzerland. Some (but not all) overseas territories are also included – for example, Portugal's cover includes the Azores and Madeira. See our Country-by-country EHIC guide for full info.
How do I get an EHIC (or check the one I have is valid)?
To register for an EHIC, you can:
Apply on the offical EHIC website.
Call 0300 330 1350.
Print the application form from the NHS website, fill it in and post it to: NHS Business Services Authority, European Health Insurance Card, EHIC Applications, Bridge House, 152 Pilgrim Street, Newcastle Upon Tyne, NE1 6SN.
You can't get an EHIC from your doctor, and whatever you do DON'T just Google 'free EHIC' - you could end up on an imposter site that charges.
If you already have an EHIC it's important to make sure it's still in date, as millions expire each year. Check the expiry date on the bottom right of the card - for full help see How to check your EHIC's valid.
What happens if I fall ill in Europe and DON'T have an EHIC?
If you are eligible for an EHIC but don't have one and fall ill while travelling in a country where the EHIC is valid, you can be issued with a Provisional Replacement Certificate. You'll need to organise this BEFORE treatment except in medical emergencies.
A PRC proves you're entitled to an EHIC and can be used to get you the same cover - but applying for one can be a laborious process. You or someone acting on your behalf will have to ring the Department for Work and Pension's Overseas Healthcare Team on +44 (0)191 218 1999 - frustratingly, you can only do this between 8am and 5pm, Monday to Friday.
You'll need to provide your name, National Insurance number, address, date of birth and the email or fax number for the specific department of the hospital or other organisation treating you overseas. If your application's successful, a PRC will then be sent to your place of treatment.
10,000+ caught without an EHIC each year
Travellers are often warned about the importance of taking an EHIC, but new figures obtained by MoneySavingExpert show the scale of people being caught out.
According to Department of Health stats we obtained under the Freedom of Information Act, a total of 56,287 Provisional Replacement Certificates (PRC) were issued between April 2012 and March 2017.
In 2012-13 there were 10,010 PRCs issued and the number each year's stayed relatively consistent since - though the stats show a spike in 2016-17 which the Department of Health says is due to a backlog of PRCs waiting to be processed from previous years.
It's important to remember these stats only show the number who didn't have an EHIC but DID successfully manage to organise an emergency replacement. It's likely many more people ended up paying for care, claiming on their travel insurance or even potentially returning to the UK for treatment.
What if I can't get a PRC before being treated?
If you don't have an EHIC and are unable to organise a PRC, then you should speak to your travel insurer. Even if you DO have an EHIC, it's a good idea to speak to them in this situation anyway, because depending on the country you're visiting, the EHIC or PRC might not cover all your costs. See our Cheap Travel Insurance guide for more help.
Bear in mind if you do claim on your insurance, most policies have an excess - typically around £50 to £100 for medical care per claim - which means you're responsible for the first part of any claim.
If you don't have travel insurance and definitely need treatment, you'll have to go to a public hospital. You may be charged in this case and you'll have to pay. It could be possible to retrospectively get a PRC to cover the treatment, but there are no guarantees and when possible you're supposed to get the PRC first.
If you're in this situation, remember to keep all receipts and any paperwork, and making copies of these if necessary. Then, when possible, contact the Overseas Healthcare Team on +44 (0)191 218 1999.
It's worth noting that in exceptional circumstances where you're unable to apply for a PRC, the hospital itself has the option to apply for a PRC for you, and give you free treatment in anticipation of retrospectively recovering the costs from the UK. However it's unclear how often this happens and there are no guarantees, so again, it's best to organise it yourself before treatment.