Sainsbury's is to trial a complete overhaul of its Nectar loyalty scheme in the Isle of Wight where shoppers there will no longer earn an automatic point for each pound spent. Instead they have to actively pick selected items to earn points on before shopping.
Sainsbury's, which bought the Nectar loyalty scheme in February, will run the trial in all its stores on the island from Thursday 12 April. It says it aims to give loyal Sainsbury's customers more points, but in reality some shoppers could lose out.
When asked if the trial would be rolled out nationwide, it told us "it depends on how well it is received". That's the crucial question millions of Nectar cardholders in the rest of the UK will want the answer to.
See our Loyalty Points Boosting guide for more tips to make the most of Nectar, Boost Advantage and Tesco Clubcard. And if you've Clubcard, be aware of two key Tesco changes which can net you a 25% boost and prevent the value of some rewards crashing.
How will the trial work?
From 5 April, Sainsbury's started contacting tens of thousands of Nectar users on the Isle of Wight about the trial.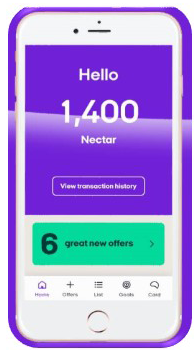 They will be able to select five 'favourite' offers which will always give bonus points on items they regularly buy, and each Friday morning they will be sent a range of new offers based on their shopping habits which they can choose to load onto their card and use within the next seven days.
Crucially, shoppers will only collect points on items they have selected offers for – they won't simply earn points because they have spent money at Sainsbury's, as they do now. So a casual visit to a store for a pint of milk and some bread with no preparation may yield no points.
Sainsbury's says customers will be offered an average of eight or nine bonus points offers each week, but there is no upper limit, so some may be offered more.
The trial will overlap with the existing scheme, so between 12 and 29 April customers shopping in Sainsbury's will be able to collect one point per £1 AND load the new trial offers onto their Nectar card.
The chance to pick your own offers is similar to the My Coupons scheme, which Sainsbury's scrapped last April, as each offer will give you a number of bonus points, for example, 20 or 40.
How do I actually collect points?
Shoppers will be able to show the QR code from the new Nectar app or swipe their Nectar card to receive points at the till, or they can enter their details online.
The app is only to collect points, not to pay for the shopping, as some other supermarket apps allow.
I'm shopping in the Isle of Wight. What if I don't want to take part?
Until 29 April you will collect Nectar points as normal if you don't opt in, so one point per £1 spent in Sainsbury's.
After that date you will only be able to collect Nectar points at Sainsbury's via the trial system in the Isle of Wight so you'll need to act to get anything.
Will I be better off under the new scheme?
You'll earn points on fewer items, when but you do earn them you will earn more per item. What remains to be seen is whether people get enough relevant offers to make up for the loss on other goods.
But, of course, if you fail to select these offers you don't earn points on those items.
It appears some regular customers may be able to earn more points, provided they select the offers, but less frequent shoppers could lose out if Sainsbury's doesn't know your shopping habits so fails to offer points on relevant items.
Will the value of points earned change?
No, they're worth the same even for those taking part in the trial, so 500 points will still be worth £2.50, and participants in the trial will keep all their existing points.
Sainsbury's also says there are no changes to the Nectar scheme at other Nectar partners, such as Argos, Dunelm, eBay and more.
Points can also be redeemed in the same way in stores or boosted via partner offers, but the app will also include a 'goals' section offering "luxury items" for points, such as a bottle of champagne for 4,000 points.
Sainsbury's has confirmed couples will still be able to pool their points together for rewards, but says the new app will be aimed at individuals.
What happens to points already accrued?
This change only relates to earning points – points accrued already and the way they are spent will not change.
See our Loyalty Points Boosting guide for more tips on the biggest schemes.
What does Sainsbury's say?
Helen Hunter, director of innovation at Sainsbury's, said: "We are excited to be trialling this new Nectar scheme which gives more rewards to our loyal customers.
"By giving them the option to choose the products on which they earn Nectar and awarding points based on loyalty, we'll be able to show our most valuable customers how important they are to us. We'll be actively listening to customers during the trial so that we can shape new Nectar as we learn."