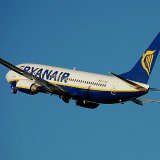 Budget airline Ryanair is reducing the window in which you can check in for free from four days before flights to just two days from Wednesday 13 June.
Customers who don't pay to reserve a seat will only be able to check in online from 48 hours to two hours predeparture – and if you don't check in during this window, you'll be charged a hefty £55-per-person fee to do so at the airport.
But if you do buy a seat reservation, which costs from £4 upwards, you'll be able to check in from 60 days before departure.
The change applies to ALL flights from 13 June – both new bookings and existing reservations.
For more things to watch out for when flying, see our 20 Ryanair tips – and for how to sit together for free on BA, Easyjet, Virgin and more, see our Airline Seating guide.
How is Ryanair's check-in changing?
At the moment, you can check in for free up to 96 hours in advance. So if you're flying at 8pm on Friday, you can check in any time after 8pm on Monday. From 13 June, the free check-in window's being cut to 48 hours – so you wouldn't be able to check in until 8pm on Wednesday.
The change means that if you don't want to pay for a reservation you'll have a much narrower window to remember to check in online or via Ryanair's app – and holidaymakers returning to the UK after even short breaks will need to access the internet abroad to do so.
Remember, if you don't check in online and just turn up at the airport, Ryanair will charge you a £55-per-person check-in fee – so don't leave it until then.
Ryanair's latest change to its check-in window comes after it cut it from a week to four days in October 2016.
New AND existing bookings are affected
As above, all new bookings and existing reservations are affected.
Unfortunately, Ryanair says if you've booked a flight for after 13 June, still want to fly and don't want to pay for a seat reservation, there's nothing you can do about the shorter check-in time.
However, if you're really unhappy and want to cancel your flight, Ryanair says you can do so penalty-free and get a full refund. Be wary of this though as prices for alternative flights may have changed since you booked – if you're thinking of cancelling it's best to check prices elsewhere before doing so.
If you do want to cancel, Ryanair says you must notify it by Saturday 19 May – you can do this by calling its customer service team on 0871 246 0000.
How can I get longer to check in?
Sadly, there's no way round it – if you're flying after 13 June and want to check in more than two days in advance, you'll have to pay to reserve a seat.
You can do this at any point from booking until two hours before your flight. Ryanair recently increased the cost of its cheapest seat reservations – here's what you'll now pay:
Cost of reserving a Ryanair seat
| Seats | Minimum price |
| --- | --- |
| Priority seats with extra legroom – rows 1, 2 (seats DEF), 16 and 17 | £15 |
| Priority boarding – rows 2 (seats ABC) to 5 | £13.01 |
| Standard seats – rows 6 to 15 and 18 to 33 | £4 |
What does Ryanair say?
A Ryanair spokesperson said: "Online check-in – for those customers who don't choose reserved seats – will be available from 48 hours to two hours predeparture for all flights from Wednesday 13 June.
"This is more than double the 24-hour check-in period operated by British Airways, Lufthansa, Norwegian and Iberia. This will give reserve seat customers more time to select their preferred seats prior to departure."
It's worth noting that the airlines above do allow you to check in at the airport for no extra cost, unlike Ryanair.