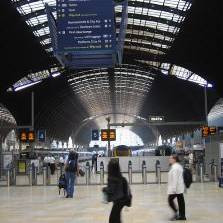 Commuters who have a Northern train season ticket for routes through Lancashire, Cumbria and Greater Manchester will receive a month's worth of compensation.
The Department for Transport says these commuters who have been the worst hit by disruption, both before and after the huge train timetable shake-up in May, are to receive a cash lump sum from the Northern train firm.
Season ticket holders in other parts of north west England, who've been affected by disruption since the introduction of the May timetable on both Northern and Transpennine Express services, will be able to claim a week's worth of compensation.
The Transport for the North Board, which represents transport authorities and businesses, is calling for more to be done to compensate those who travel regularly but don't have a season ticket.
See our Train Delays guide for how to claim for individual delays in five minutes.
I've been affected - what happens next?
You will need to claim your lump sum compensation from your train firm, but full details of how to do this are yet to be announced. Payments are expected to begin in early July.
The exact routes which will be eligible for either the month or week lump sum of compensation are yet to be announced, and the details of exactly which ticket holders can claim are still being debated.
The train firms are expected to announce more details very soon, and we will update this story as soon as we know more.
Make sure you also claim for each individual delay within 28 days
The DfT has confirmed that making a Delay Repay claim for each individual delay you suffer will not exclude you from being eligible for the lump compensation scheme - so make sure you claim now.
With Northern and Transpennine Express services you can claim if you arrive more than 30 minutes late, regardless of the reason for the delay.
Here are the timetables for each of the firms:
A temporary timetable is in operation on parts of Northern's network until 29 July, with the full timetable introduced following that. The Lakes Line is also due to start running Northern services again from Monday.
See our Train Delays guide for full help on how to claim for disruption.