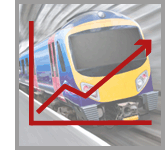 Train booking website Takethetrain.co.uk has introduced a hefty £5 booking fee that's already caught some passengers out. If you want to book online without paying a fee, look at other sites instead.
Until the end of last month Takethetrain.co.uk was one of a select few sites which allowed customers to buy tickets without paying any booking fee. But since 25 May it's added a £5 fee to the total cost of tickets just before you confirm your booking.
Several MoneySavers have contacted us to say they've been caught out by the new charge, with some not noticing it until after they've paid. After we contacted Takethetrain.co.uk, it's told us it'll now offer customers who booked between 25 May and 14 June a refund of the £5 fee as a gesture of goodwill.
For full help on cutting the cost of train travel, see our Cheap Train Tickets guide.
'A very cheeky change'
Several Takethetrain.co.uk users have got in touch with MoneySavingExpert to alert us to the new fee - and some have registered their annoyance.
For example, Dawn tweeted: "You need to change the info on your website about Takethetrain... I thought they didn't have fees... They added £5 on the booking just as I pressed accept. Very unhappy."
Ching emailed: "I accidentally booked my ticket with them without looking at it as it was still free when I last booked in April. It's a very cheeky change."
Susan emailed: "Help - I have been charged two times £5 for buying two tickets from Takethetrain.co.uk."
And Simon tweeted: "Booo. Takethetrain.co.uk just imploded their business."
How does Takethetrain.co.uk compare to other train booking sites?
As you can see from the table, Takethetrain.co.uk's new fee is far higher than that charged by many other sites – Raileasy's is the next highest at £2.50, although this doesn't currently apply to MSE users who go via our special link and spend more than £10.
Virgin East Coast - which allows you to buy tickets from any train company - doesn't charge any users any fees, and also throws in free first-class delivery if you book at least five working days ahead.
The main UK-wide booking sites
Booking site
Booking fee
Delivery fee
Advantages
First class
Special Delivery
Virgin East Coast
No
Free (1, 2)
£6.45 up to value of £500
Virgin East Coast sells all train companies' tickets.
RedSpottedHanky
£1 per booking.
Free (3)
£10
£10
The Trainline
25p-£1.50 depending on ticket price. 75p-£1.50 on website and iPhone/Android apps, £1 on other mobile apps.
£2.50 for 2nd class (4)
£7.50 for next day delivery
If you're flexible, use its Best Fare Finder to find the cheapest fares around the dates you want to travel.
Raileasy*
Free for MSE users on fares above £10 (normally £2.50)
£1.502
£7.50
Allows you to toggle between cheapest fares and most flexible fares.
Takethetrain.co.uk
£5
£12
£7
Devoted train geeks on our forum rate this site, which clearly highlights the cheapest fares as you search, but the hefty booking fee has to be factored in.
Train operators' own sites
N/A
N/A
N/A
Check relevant train companies' sites before booking, as they often offer discounts.
National Rail
N/A
N/A
N/A
Doesn't sell tickets, but highlights the cheapest fares. Links directly to train companies, most of which are fee-free.
1) Only if ticket on departure or self-print aren't available for your booking. 2) Tickets must be booked at least five working days before you travel. 3) Tickets must be booked at least six working days before you travel. 4) Tickets must be booked at least seven days before you travel.
I've recently booked on Takethetrain.co.uk - how can I get a refund?
After we contacted it, Takethetrain.co.uk told us it will happily refund the £5 booking fee for any customers who booked a ticket between 25 May and 14 June, as a "gesture of goodwill".
If you booked tickets through the site in between those dates, email hello@takethetrain.co.uk by 31 July with details of your booking to claim your refund.
What does Takethetrain.co.uk say?
A spokesperson told us: "Takethetrain.co.uk relies on people and technology. We need to support them, so sadly after a review we realised we had to withdraw our fee-free service and put in place a fee to cover our overheads, which we thought was a better alternative than removing the service completely.
"We appreciate that the fee represents a large increase, which is why on our website we have recommended using an alternative booking service for those customers looking to avoid fees."