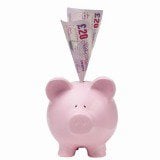 Banks may be told to introduce a single interest rate for all savers who've had their accounts for more than 12 months - meaning long-term savers could be given better rates, but shorter-term customers may lose out.
The Financial Conduct Authority (FCA) has today published a discussion paper, Price discrimination in the cash savings market, as it is concerned competition is not working well in this market.
It hopes to gather feedback on how much harm this is causing consumers, and on its preferred remedy, which is each bank introducing a single basic savings rate for easy-access savings and another for cash ISAs once they have been open for a certain amount of time.
The FCA acknowledges that while the change could benefit long-term customers by giving them a better interest rate, banks may lower the rate they offer new customers.
Don't wait for new rules to boost what you earn - see our Savings guides for how to get the most from your money.
How would a basic savings rate work?
Providers would be able to set their own basic savings rates - one for all easy-access savings accounts and another for cash ISAs. The rates would apply to accounts which have been open for a certain amount of time, likely to be 12 months.
The FCA says those whose accounts have been open for more than two-and-a-half years are likely to be getting a much worse rate than those whose accounts have been opened for less than this - and so the aim of the basic savings rate is to ensure those who've had an account for more than 12 months get the same rate regardless of how long their account has been open in total.
It believes this model will make it more difficult for providers to discriminate against long-term savers, as they will have to set a basic savings rate which is good enough to retain the shorter-term customers who have their accounts for up to two-and-a-half years and who are generally found to be more likely to switch.
At the moment the FCA is not proposing a minimum amount for the basic savings rates, so individual banks will set different basic savings rates.
The FCA is also considering a number of other options, including forcing providers to switch customers to an on-sale comparable account if they discontinue a customer's product, ratio-based price regulation to ensure the difference between the interest paid to new and long-term customers is not too large and a ban on all price discrimination meaning one interest rate regardless of how long the account has been open.
The basic savings rate is its preferred option.
Why is the FCA doing this?
The regulator says it has been concerned about this issue for a number of years, and in 2015 conducted a Cash Savings Market Study which found many providers have large numbers of customers who've had an account for five years or more.
It introduced a number of remedies, including rules to improve what customers are told and how often they are reminded about their product, help for customers to switch accounts within their provider, an industry agreement on cash ISA transfers and a trial publicationof the lowest interest rates available on easy access cash savings accounts and easy access cash ISAs.
Customers were also given a 'switching box' leaflet which told them about the benefits of switching accounts.
The FCA's monitoring of the remedies has found they are not enough to make a substantial change.
What happens next?
Any firms which provide easy-access savings accounts or cash ISAs are able to provide feedback, along with industry groups, consumers and consumer groups, before 25 October this year.
We've asked if there's a target date for any new remedy to come into force and will update this story if we hear back.
What does the FCA say?
Christopher Woolard, executive director of strategy and competition at the regulator, said: "Providers can take advantage of high levels of customer inaction to pay lower interest rates to long-standing customers. While many customers have valid reasons for not shopping around, providers must still treat them fairly, while maintaining competitive rates for those who do.
"Efforts to encourage customers to switch have had limited impact and we remain concerned about the way firms are treating customers. This is why we are considering the introduction of a basic savings rate for older accounts, which would promote competition and help get customers a better rate of interest."