The rise in household bills is continuing to accelerate as inflation rates stay level, this month's MSE Bills Tracker shows.
Average overall costs are up 2.2% over the 12 months to June 2018 - a 0.3 percentage point rise compared to May's 12-month figure.
Meanwhile, the headline CPIH figure – more on which is below – remained unchanged at 2.3%, showing that the rise in bills and expenses is accelerating more quickly than inflation.
Fuel prices continued to surge, with diesel costs increasing by 11.6% and petrol up by 12.6% over the 12 months to June, compared to 8.9% and 7.6% respectively in May.
The increase in other bills generally stayed steady, although insurance costs saw slower rises in June - overall insurance prices were up 0.5% over the 12 months to June, down from 2% in May. Despite this, many will still be paying over the odds for their premiums - see our guides to Car, Home and Travel Insurance for details on how to save.
Our tracker, which launched in August 2017, uses data supplied by the Office for National Statistics (ONS) to create a picture of the average price changes for household bills across the UK.
Inflation is usually measured by looking at the prices of hundreds of different items, but crucially our tracker cuts most of these out and focuses only on core expenses such as housing costs, energy and insurance - expenses which most households have and which typically make up the lion's share of outgoings.
Here are some of the main figures – you can see a more detailed breakdown below: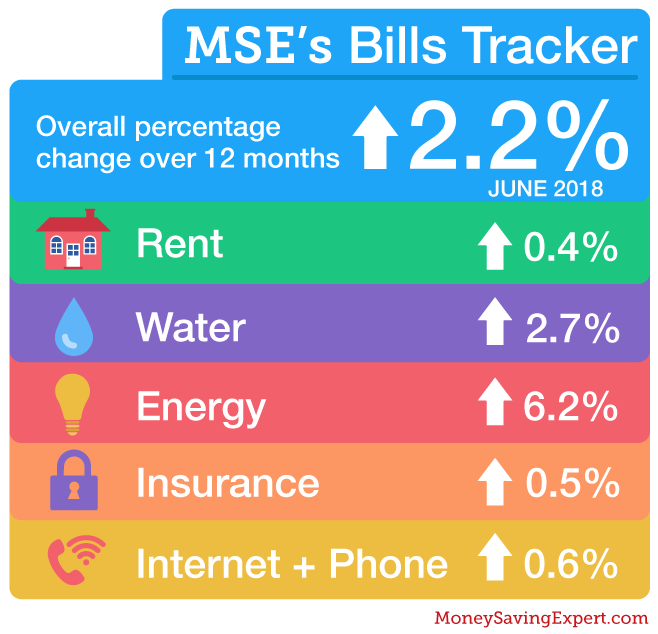 How does MSE's Bills Tracker work?
Inflation is the rate at which the cost of goods and services bought by households rises or falls. The ONS publishes different measures of inflation, and we've requested specific data to come up with a realistic figure for the average change in a typical household's core outgoings.
Our figure uses elements of CPIH, which stands for the Consumer Prices Index including owner occupiers' Housing costs, the most comprehensive measure of inflation. CPIH looks at the prices of a 'basket' of 700 goods and services listed in the Consumer Prices Index inflation measure, such as clothes, food and furniture – and then adds costs associated with owning or renting a home.
Crucially, MSE's Bills Tracker cuts down the CPIH basket of goods and services to about 40 costs which many typical households are likely to face every month (see the list below).
We've focused on bills rather than expenses such as food, and stripped out items included in the CPIH that you're unlikely to buy often, if at all, such as rugs, door handles, a ten-pin bowling session and knitting wool. In other words, this is designed to be a real bills index reflecting typical household costs.
What does June's MSE Bills Tracker show?
The MSE Bills Tracker shows that overall household bills and expenses were up 2.2% over the 12 months to June, up from 1.9% in the same period to May.
The graph below shows how the Bills Tracker has compared with CPIH since January 2017: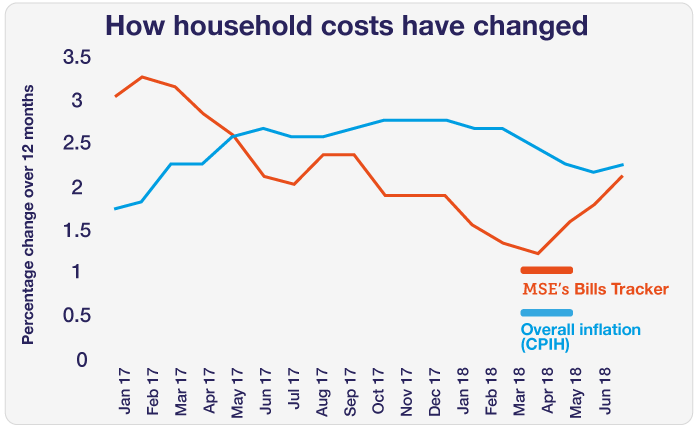 How the cost of different bills changed in June
Here's a list of what's included in MSE's Bills Tracker, and how these costs have changed according to the most recent set of figures:
Rent and 'owner occupier housing costs'. These are measures of rental costs and the costs associated with owning a home such as a mortgage, maintenance and buildings insurance. The ONS measures these using something called 'rental equivalence', which estimates the amount homeowners would pay to rent their own home. For the 12 months to June 2018, these increased by 0.4% and 1.1%.
Water costs. These include water supply and sewerage collection charges. For the 12 months to June 2018, these increased by 2.7%.
Energy costs. These include electricity and gas, and other fuels such as natural gas, kerosene and coal. For the 12 months to June 2018, these increased by 6.2%.
Council tax. This is the average council tax bill in Great Britain and the average rates bill in Northern Ireland. For the 12 months to June 2018, this increased by 4.9%.
Fuel. Including diesel and petrol. For the 12 months to June 2018, diesel increased by 11.6% and petrol increased by 12.6%.
Phone and internet costs. These include landline, mobile phone (handset and charges) and internet. For the 12 months to June 2018, these increased by 0.6%.
TV licence and subscriptions. These include TV licence costs and digital TV subscriptions. For the 12 months to June 2018, these increased by 2.9%.
Insurance. Including contents, health, travel and car insurance. For the 12 months to June 2018, car insurance decreased by 6%, while contents insurance increased by 4.1%, travel insurance by 13.2%, and other insurance, eg, health insurance, by 4.7%. The overall increase for insurance was 0.5%.
Other financial services costs. These include costs such as mortgage arrangement fees, bank charges such as overdraft fees, credit card fees and stockbrokers' fees. For the 12 months to June 2018, these decreased by 2.6%.
How can I use this info to save money?
The idea behind MSE's Bills Tracker is to give a more accurate picture of how most households' bills and expenses are changing. Our hope is that it will help MoneySavers in two ways:
More accurate info to help you budget better. A detailed budget can help you plan ahead. Providing more realistic figures for how household bills and expenses are changing should help – see our Free Budget Planner.
Showing where you can save. Our Bills Tracker also highlights price rises and falls in specific areas, which should give you a better idea of benchmark-prices, what may cost you more and what you can try to save on. MSE has a full range of guides showing how to save on the bills we look at, including: