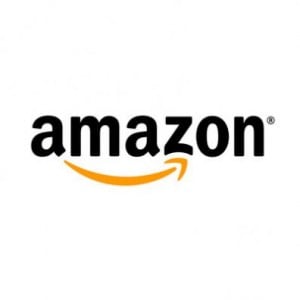 Some of the products discounted in Amazon's Prime Day sale are actually more pricey than they were just weeks ago, research by MoneySavingExpert.com shows.
Online retail giant Amazon has been pumping out thousands of deals since midday on Monday 16 July for its annual 36-hour discount event for Prime customers, which ends at 11.59pm tonight – but consumers should be wary of whether the discounts they're spotting are actually good deals at all.
We used Amazon price tracker CamelCamelCamel to check if the prices being advertised were the cheapest they had been on the site in the past few months, and found that some were up to 30% cheaper at other times of the year – and you didn't need to fork out the £79 for Prime membership either.
See our Amazon deals page for our analysis of Prime Day deals.
Products aren't always at their cheapest in Prime Day sale
We trawled through scores of Amazon Prime Day deals and found that products being listed as 'deals' weren't always being sold as cheaply as they had been previously and in some cases the price had been raised in the weeks leading up to Amazon Prime Day, only to then drop again in the sale, which made the discount look bigger.
Here are some of the examples we found on Monday 16 and Tuesday 17 July:
Need For Speed Payback PS4 game. £21.49 in Prime Day sale, down from £31.37. But we found that between 4 July and 8 July it had been available on Amazon for £14.99. It rose to £49.99 in the days before Prime Day before dropping to £31.69, then to its sale price.
Motorola five-inch colour-screen video baby-monitor. £111.42 in Prime Day sale, down from £139.99. Yet in April it was £89.99 and in June £110. It only rose to £139.99 at the start of July, a few days before Prime Day.
Yale smart home-alarm kit. £194.99 in Prime Day sale, down from £248.34. It had been £189 in June and only rose to £248.34 at the end of June.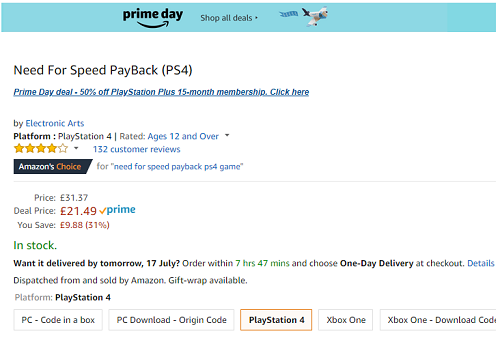 The Need For Speed Payback game advertised on Amazon on Prime Day for £21.49, down from £31.37.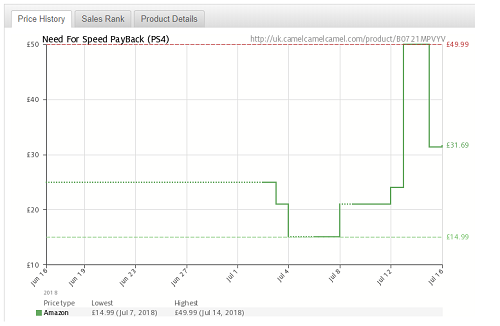 A price map from CamelCamelCamel showing how the cost of the game fluctuated in the weeks leading up to Amazon Prime Day. It was as low as £14.99.
'Don't get sucked in and watch out for duds'
Deborah Shanahan, deals manager at MoneySavingExpert.com, said: "Amazon prices go up and down regularly, so it's always worth checking if a price is at its lowest using CamelCamelCamel – that way you'll see if it is actually a deal at all.
"As our research shows, several of the deals on Amazon Prime Day won't be at the cheapest price they have ever been offered for, so don't assume, just because you've been told that there's money off, that you're getting a good price."
Are there any good deals?
While our research highlights the need to always check prices and not be sucked in by the hype, there are decent deals to be had. We've seen strong discounts on Amazon's own devices including Kindles and Echos, as well as other products such as the Fitbit Charge 2.
Many are the cheapest they've ever been on Amazon, and were the cheapest online prices we could find, so it is possible to grab a good deal on certain products – see our Deals team's full analysis of popular items.
What does Amazon say?
A spokesperson for Amazon said: "For many of our deals the new price and the previous Amazon price can be seen at the product detail page so customers can make an informed decision."