App-based challenger bank Starling has today launched a vertical debit card which it claims will change the landscape of UK banking - but it's unlikely to be more than a gimmick for most.
The vertical card, available for both personal and business banking customers, will be sent out to new customers from this week, but existing customers will need to wait until their current card expires. Starling says the vertical design reflects how we use our debit cards today - for example, slotting them vertically into ATM machines and card readers.
While Starling Bank is the first UK bank to launch a debit card with a vertical design, it follows in the footsteps of Virgin Money, which released a vertical credit card in 2015. Digital business banking service Tide also launched its own vertical card in March this year.
For full info on digital banking, including top mobile-only current accounts and savings, see our App-based banking guide.
What features does the new card have?
In practice there will be little difference between the new vertical card and its horizontal predecessor.
The card will still include expected features such as contactless payments and a signature strip. Other than its vertical orientation, the main change is that only Starling Bank's name will be written on the front of the card - the customer's name, card number and expiry date will now be found on the back.
The account number and sort code will not be on the debit card at all, meaning customers will need to check their account on their Starling app to find them.
Starling says that moving personal information to the back of the debit card will improve security, as it will be harder to copy someone's details from their card - but as always, you should stay vigilant and check the Stop Scams guide for full info on keeping yourself safe from fraudsters.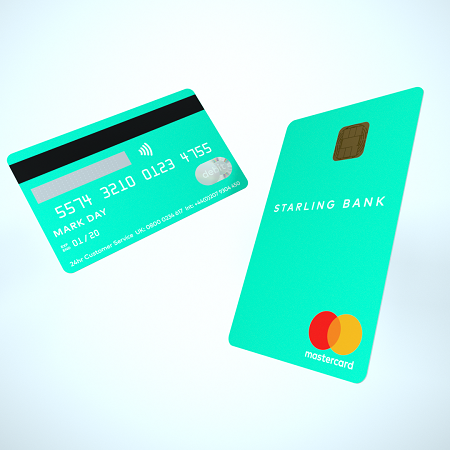 Here's how the card will look.
What does Starling say?
Mark Day, art director at Starling Bank, said: "Great design is about more than just making things look good; it's about finding a better way of doing things, being responsive to cultural and technological shifts and adapting the outdated to meet emerging needs.
"Our lives are largely lived in portrait now, even down to how we use our phones. A bank card in portrait reflects how we actually use our cards today; it's intuitive, instinctive, and in short: it's just common sense."