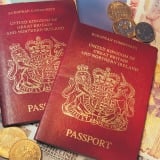 Hundreds of thousands of Brits are paying more than they need to for a new or replacement passport, official data obtained by MoneySavingExpert.com reveals.
As the result of changes to passport pricing in March this year, it's now more expensive to make a standard application by post than online. But figures released under the Freedom of Information Act show that despite that, in the nine and a bit weeks since the changes, some 415,874 standard adult applications and 277,445 child applications were made by post – about 75,000 a week in total.
Collectively these applicants have paid £6.5 million more than they would have done if they'd applied online – applying online is now £9.50 cheaper. And while some of those applying by post may be doing so to use the Post Office's Check & Send service, which makes sure you've included the right information in the right way, it's likely that many simply aren't aware they're now paying more than they need to.
The cheapest way to get your passport is via the Gov.uk website. It has options for getting your first passport, renewing an old one or getting one for your child.
For full help on the rules and how to apply cheaply, see our Passport renewal tips 60-second guide.
What does the data show?
We asked the Passport Office how many people are still paying for postal passport applications despite these now being more expensive than online applications.
We found that from 27 March 2018 (when prices went up) to 31 May 2018, the following applications were made:
UK standard passport applications between 27 March and 31 May
Application type (1)
No. of applications
Cost since 27 March
Adult online application
535,661
£75.50
Adult postal application (2)
415,874
£85
Child online application
245,989
£49
Child postal application (2)
277,445
£58.50
(1) Includes new applications, renewals and replacement applications. (2) Includes applications to Post Office's Check & Send service, which cost £9.75 on top of the application fee – though the Passport Office and Post Office have not revealed the exact breakdown.
The proportion of people applying online has risen significantly since the price changes in March – FOI data shows the proportion of people applying for an adult passport online has risen from 38% to 56%.
What is the cheapest way to get your passport?
The cheapest way to renew or apply for a passport is online, on Gov.uk. You'll save £9.50 on postal prices.
Passports are valid for 10 years but remember some countries require you to have at least six months left on yours, in which case you may need to renew after nine and a half years. If you don't, you may be refused entry – we've heard one story of a family's four-year-old girl being refused entry to Turkey because she had less than two months left on her passport.
Don't simply google 'passport renewals' as there are sites out there which can catch you out. These look like the official Government site for passports, but charge applicants £20-£100 on top of the official passport fee. See our Copycat Sites guide for more info.
What if you use the Post Office's Check & Send service?
The postal application numbers we've quoted above include applications via the Post Office's Check & Send service, which costs a further £9.75 on top of the postal application fee.
This service ensures that you've included the correct documents, that your photos don't breach any of the restrictions and that you've filled in the forms correctly.
Unfortunately, this service is only available on postal applications at the moment. The Post Office says it's working on a digital alternative – although it couldn't give us further details.
The Post Office also couldn't tell us how many currently use its Check & Send service, but it is likely some of those paying for postal applications are doing so, so that they can use it. The Post Office says standard applications are two and a half times more likely to be delayed due to basic errors than applications via Check & Send, so if you think you might make a mistake or are in a hurry it may be worth using Check & Send, even though it'll cost more.
If you apply online for your passport, some preliminary checks on your photo are done before your application is submitted.
'Many simply don't know they're paying more than they need to'
Steve Nowottny, news and features editor at MoneySavingExpert.com, said: "These figures suggest that the message about March's price increases hasn't yet got through. While some may be choosing to apply by post so they can use Check & Send, it's likely many more simply don't know they're paying more than they need to.
"The Home Office should do all it can to help those who are unnecessarily overpaying to apply online."
What does the Home Office say?
A spokesperson for the Home Office, which is responsible for the Passport Office, said: "Online passport applications are significantly cheaper to process than applications made on paper, and we fully encourage our customers to apply online.
"Applying online is not only the cheapest way to get your passport, but it is also the simplest. Her Majesty's Passport Office will continue to work to ensure that its customers are fully aware of the benefits of applying online, and to make it as accessible as possible.
"The Home Office continues to encourage the use of the online system, promoting it via various channels, including text messages, social media and through community organisations."