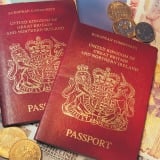 The price of applying for a passport is set to increase on Tuesday 27 March by £3 if you do it online and £12.50 if you do it by post – but there's a way to lock in today's cheaper price if you're due to renew right up until the end of 2018.
The Home Office is for the first time making it more expensive to apply by post rather than online, as postal applications cost more to process.
The price changes come into force on 27 March and apply to renewals and new passports (which includes if you've lost your old passport or changed your name).
Online applications will cost £75.50 for adults and £49 for children, while postal applications will be £85 for adults and £58.50 for children.
Here's a summary of how costs are changing, how long you need to have left on your passport to enter certain countries and how to renew your passport the cheapest way. See our Passport Renewal Tips guide for full help.
This is just one of many public service and utility price hikes due to hit:

- Council tax... bills increase on 1 April, yet some overpay – challenge your tax band.
- Stamps... first & second class will rise by 2p on 26 March – buy early to save.
- TV licences... standard licence costs will rise by £3.50 – can you legally ditch yours?
- Water bills... are going up by an average £9 on 1 April – cut your water bills.
- Prescriptions... climb to £8.80 on 1 April in England – see cheap medicines help.
- Dental charges... check-up costs will go up from 1 April – can dental insurancehelp?
How are passport costs changing?
Here's what's happening to the cost of a standard three-week passport application:
How standard passport costs are changing
| Application type | Current cost | Cost from 27 March | Cost increase |
| --- | --- | --- | --- |
| Adult online application | £72.50 | £75.50 | 4% |
| Adult postal application | £72.50 | £85 | 17% |
| Child online application | £46 | £49 | 7% |
| Child postal application | £46 | £58.50 | 27% |
| Adult online bumper passport (16 extra pages) | £85.50 | £85.50 | 0% |
| Adult postal bumper passport (16 extra pages) | £85.50 | £95 | 11% |
The costs of other forms of application are also going up, including:
Premium service (one day) – this is rising from £128 to £177 for standard adult passports.
Fast-track service (one week) – this is rising from £103 to £142 for standard adult passports.
There's no user-friendly version of the full list of price changes, but they can be found buried in this official document.
The Post Office's Check & Send service, which ensures that you've included the correct documents, that your photos don't breach any of the restrictions and that you've filled in the forms correctly, will remain the same price at £9.75 (on top of the application fee).
Renew EARLY to beat the increase
The rule is that when you renew, any time left on your existing passport is added to your new one, up to a maximum of nine months. So you can renew in time to beat the hikes even if your passport doesn't expire until 26 December 2018.
Let's say your passport's due to run out ON 26 December 2018. You can renew on 26 March and pay the current cheaper prices – but you won't lose any time on your passport and your new one will be valid until 26 December 2028.
Even if your passport expires just after 26 December 2018, it may still be worth renewing early and losing a few days from your expiry date. For example, if your passport is due to expire on 31 December this year, and you renew on 26 March, your new passport will be valid until 26 December 2028 but it may still be worth it overall.
If you need a new passport, for example if you've changed your name, make sure you apply before 27 March to beat the increase (though if you've changed your name and already have travel booked, be careful, as the name on your passport will likely need to match the name on your booking).
How to renew your passport the cheapest way
The only site you'll ever need to go to is the Gov.uk website. It has options for getting your first passport, renewing an old one or getting one for your child.
Whatever you do, DON'T simply google 'passport renewals' as there are shyster sites out there which can catch you out. These look like the official Government site for passports, but charge applicants £20-£100 on top of the official passport fee.
Many are just expensive form-filling services, though some also offer a 'checking' service.
The sad thing is these sites are legal. See our Shyster Sites guide for full info plus how you can try to get a refund if you've been caught out.
When do I need to renew my passport?
Passports are valid for 10 years but some countries require you to have at least six months left on yours. If you don't, you may be refused entry – we've heard one story of a family's four-year-old girl being refused entry to Turkey because she had less than two months left on her passport.
Countries that require at least six months from your date of entry left on your passport include China, Egypt, Fiji, Indonesia, Israel, Kenya, Pakistan, Thailand, Turkey and the United Arab Emirates.
New Zealand requires you to have at least a month left from your date of exit, and many countries also require visas, so check before you travel – Gov.uk has a full country-by-country list of entry requirements.
Why have prices gone up?
Immigration Minister Caroline Nokes said: "Our priority is to ensure that UK travellers have a secure, effective and efficient service from the point of application to the time they pass through the UK border and it is only right that we should look at this whole process when setting our fees.
"These proposals will ensure that those people who don't travel abroad are not footing the bill for those who do."